Top 5 reasons you NEED to binge Tiger King
Hey, all you cool cats and kittens. If you haven't been watching the new Netflix true-crime documentary series, Tiger King, you're missing out on a true quarantine staple. Not only does Tiger King have murder, a crazy cast of real-life characters, and, of course, tigers, but it also has more plot twists than Gone Girl and The Usual Suspects combined. So here's a Watch-Mojo-like list compiling the top reasons you should go binge the series as soon as possible.
No. 5: Joe Exotic and Carol Baskin. Tiger King would be lost without the eccentric, gun-loving Joe Exotic and his game park full of big cats. But what truly defines Joe Exotic is his hatred for Carol Baskin, the woman who runs an animal sanctuary in Florida called Big Cat Rescue. Other memorable folks on the show include Doc Antle, a man who is probably running a cult, and Rick Kirkham, a man who tried (and failed) to make a reality show about Joe Exotic and Joe's ex-husband, John Finlay.

No. 4: The show is certified fresh on the review site Rotten Tomatoes. 86 percent of critics who watched the series gave it their stamp of approval with the consensus being that the show is "a bizarre true-crime story you have to see to believe."
No. 3: Tiger King sheds a light on exotic "pets" as well as animal cruelty. There are more captive tigers in the U.S. than there are living in the wild around the world. Joe Exotic is one of the many who privately own these big cats and uses them as a lucrative way to earn money. One of the ways to profit off tigers featured in the show is to have customers pay to pet, take photos with and play with tiger cubs. With Carol actively working to stop the cub-petting and Joe trying to protect his way of life, the rivalry in the show boils down to the question of whether or not this practice is permissible or exploitive.

No. 2: It has everything. Gut-wrenching twists, rednecks, polygamy, two drug kings, tiger attacks, cults, a murder plot, a crazy cat lady and country music which pack Tiger King to the brim with some of the wackiest content ever seen. Between Joe Exotic's campaign for governor, his country music career, and Carol's infamous catchy slogan, not a minute spent watching Tiger King is boring or even remotely normal.
No. 1: You can have an opinion about whether or not Carol Baskin killed her husband. At the heart of all the buzz and conspiracy of the show is one question: did Carol kill her husband, Don? Episode Three of the series focuses on the disappearance of Don Lewis, a man who owned big cats for years, as well as the theories surrounding how or why Carol might be at the center of it. Speculation ranges from the idea that Carol fed him to the tigers to destroy evidence to the fact that she is totally innocent.
So there you have it, the top five reasons to purchase a Netflix subscription and start marathoning Tiger King if you haven't already. Happy viewing and stay safe!
About the Writer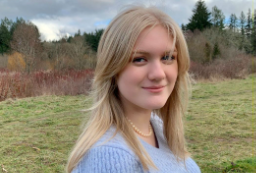 Ella Davis, Web Editor
Hi! My name is Ella, my pronouns are she/her and I am junior. This is my second year on the staff but my first as the web editor! When I'm not writing...