Do it for the students and let's not reopen schools
The question we need to be asking ourselves right now is not "Is it safe for students to go back?", but rather "Would it be good for students to go back?".
As I sat and listened to the dozens of public comments read at the Jan. 11 school board meeting, each parent providing their own scientific evidence, case studies and yes—even feelings—debating whether schools should reopen, I felt an overwhelming sense of neglect. Here were parents debating the facts and figures and, yet, there was hardly any mention of whether it would be good for students to go back.
The answer would be a resounding no.
Speaking only to high school students, returning to school is nearly impossible.
Each student has a unique schedule and very rarely does anyone have all of their classes with the same person. There would be no way for students to maintain their selected set of classes unless schools develop a network of one-way paths to maintain a six-feet distance for break.
The hybrid option states that students be separated by their last names: Mondays and Tuesdays for last names A through K, Thursdays and Fridays for last names L-Z. Classes that double as extracurriculars, such as choir, newspaper, advanced business procedures and ASB, would separate a normally coherent cohort of students and may create drastically different numbers in each group, rather than an even half-and-half. Online, at least all students are able to be together.
With reports of large, indoor gatherings of high school students, it's not hard to believe that these gatherings would continue with reopening. In fact, reopening might encourage the idea that gatherings are now safe. Hybrid learning could then be an outlet for COVID to spread when students come to school asymptomatic. I can already imagine students unsafely congregating in bathrooms and hiding in obscured spots. As sad as it sounds to complain about those otherwise usual activities, those activities are now life-threatening.
Most importantly, however, students will not be able to emotionally handle the switch to hybrid learning. Students have adapted to the schedule of distance learning, most reporting more sleep because of the late start. Asking students to not only learn a new system, but juggle it with the old system, would create a disastrous mix of confusion and oblivion and bring back a longing for normalcy when the current situation has become normal.
It bears noting that this article applies only to students not requiring any special services, like ELL, Special Education, etc. When talking about the majority of students, however, the conversation needs to center around the overall success of Tigard-Tualatin students, academically, socially and emotionally, rather than pointing to irrelevant examples.
About the Writer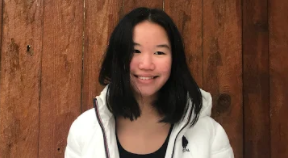 Emily Phuong Tran, Feature Editor



My name is Emily Phuong [foo-ong] Tran. I use the pronouns she/her/hers. Currently a junior at Tualatin High School, I am in the class of 2022. I...