Unrest in Russia: Tracking Navalny Opposition Movement
Increased opposition to President Vladimir Putin and pro-democracy protests spread throughout Russia in 2020 as a part of a larger movement against corruption and the growing number of authoritarian policies being introduced in the country. Alexei Navalny, a key dissident figure and founder of the reformist Russia of the Future party, has become the center of the Kremlin's political crackdown, culminating in his poisoning and subsequent criminal trials.
Here's a timeline detailing how the tensions between Navalny and the Russian government evolved:
Dec. 2011: Navalny's growing blog turned him into a major organizer of the anti-Putin, pro-democracy protests that took place in Moscow. Over 50,000 people attended, making them one of the largest demonstrations in the capital since the fall of the Soviet Union.
July 2013: Navalny received a suspended sentence for embezzlement. The charge, widely condemned for being political, did not prevent him from running for Mayor of Moscow in September. He came in second with 27 percent of the vote.
Dec. 2014: Navalny received a second suspended sentence for embezzlement. Despite this, he launched a presidential campaign in 2018. However, Russia's Central Electoral Commission barred him from participating with a 12-1 vote because of his convictions.
Aug. 20, 2020: Navalny suddenly fell ill on a flight from Tomsk to Moscow. Video footage showed him screaming in pain and crew members rushing to help him. He was hospitalized in the Siberian city of Omsk before being evacuated to Charité Hospital in Berlin where he remained in a coma until Sept. 7.
Sept. 2, 2020: The German government released a statement about how Navalny was poisoned with the Soviet-era nerve agent Novichok.
Dec. 14, 2020: A joint investigation by The Insider, CNN, Bellingcat and Der Spiegel implicated Russian Federal Security Service (FSB) agents as Navalny's attackers. It tracked members of a unit that specialized in chemical substances through their telecom and travel data.

Dec. 21, 2020: Navalny released a video titled, "I called my killer. He confessed." to his YouTue channel. In the 33-minute video, he posed as a Russian security official over the phone to speak with the man who allegedly poisoned him. The entire conversation was recorded, and Navalny's team released full transcripts which were translated by Bellingcat.

"It is finally clear that Putin and the FSB wanted to kill me," Navalny said at the end of the video, while addressing the pilots and medical staff who saved him. "I survived thanks to you."

Jan. 17, 2021: Despite the risk, Navalny returned to Russia. Moscow Police detained him at Sheremetyevo International Airport in Moscow for violating parole.

Jan. 19, 2021: A 112-minute documentary titled "Putin's palace. History of the world's largest bribe," was released on Navalny's YouTube channel. Within a week, it was viewed over 100 million times. A title card at the beginning reads "January 23, 14:00. Central streets of your cities. Take to the streets. Don't stand aside."

Jan. 23, 2021: People turned out in more than 130 cities to support Navalny. Footage circulated via Twitter of journalists being beaten and riot police dragging protestors away. Over 5,000 were arrested.

Feb. 2, 2021: A Moscow court replaced Navalny's suspended sentence with a three-and-a-half-year prison term for violating parole. Because he had already served time on house arrest, he will only serve three years in the corrective labor colony.

"Mr. Navalny should be immediately released, and the perpetrators of the outrageous attack on his life must be held accountable. The Kremlin's attacks on Mr. Navalny are not just a violation of human rights, but an affront to the Russian people who want their voices heard," tweeted President Biden's National Security Advisor, Jacob Sullivan, on Jan. 17.

Feb. 20, 2021: Moscow courts rejected the European Court of Human Rights' demand for his release. However, they reduced Navalny's prison sentence by six weeks. He was also fined 850,000 Rubles ($11,000 USD) following a conviction of slander against a World War II veteran.

March 2, 2021: The U.S. Treasury Department sanctioned seven Kremlin officials as a result of their participation in Navalny's poisoning. They included FSB Director Alexander Bortnikov, Russia's Prosecutor General Igor Krasnov and President Putin's "domestic policy curator" Sergei Kiriyenko. U.S. citizens are prohibited from engaging in transactions with these individuals.

March 31, 2021: Navalny began a hunger strike since he was repeatedly denied access to a doctor despite the acute pain in his arms, legs and back.

April 19, 2021: After consulting with medical specialists, Navalny was transferred to a hospital ward in Vladimir. Potassium levels in his blood indicated his kidneys could fail and he could go into cardiac arrest at any moment if he continued with his strike.

April 21, 2021: Pro-Navalny and anti-Crimean War protesters flood the streets in over 82 Russian cities on the day of Putin's Annual Address. They chanted "Free Navalny" and "Let the doctors in." Over 1,500 were arrested and Vladimir Putin warned Western countries not to cross "red lines" when it came to intervention.

"Putin is just abusing his power to unacceptable degrees," said protester Alexander Skripnikov in an interview with CNN. "He is just decimating Russia more and more."

April 29, 2021: The Kremlin cracks down on Navalny's campaign offices and disbands them on charges of "extremism." This announcement came the same day that Navalny re-appeared in court on an appeal for his defamation charge– which he was unsuccessful in overturning.

It is uncertain what will happen next in Navalny's case and if he will continue to receive treatment or critical care during his sentence in prison. But what's for certain is that opposition to a Pro-Putin government isn't going away anytime soon despite the Kremlin's efforts.

"This [Navalny's movement] is one of the last gasps of a free Russia," said Marina, a student protester from Moscow. "We came out for Alexei… and are against the wild propaganda.
About the Writer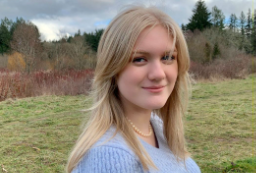 Ella Davis, Web Editor
Hi! My name is Ella, my pronouns are she/her and I am junior. This is my second year on the staff but my first as the web editor! When I'm not writing...