Trendy TikTok tunes you didn't know were Eastern European
TikTok, the social media app, has seen a rise in trends set to music from and about Eastern Europe. How these songs became popular can be left to the mystery of the ever-changing and scarily accurate algorithm, but their popularity can be measured by the number of videos beneath their hashtag as well as how often they are popping up on other platforms.
So let's dive into the three most popular songs of TikTok's new phase, recap the trends and suggest what songs to check out next if you like what you've been listening to.
Number One: Boney M's "Rasputin"
A Just Dance 2 favorite, the 1978 Euro-pop hit came to the platform with a brand new dance and has amassed over 4.3 million TikToks set to its disco beats. The song attracted a cult-like following in the late 2010s with a series of mini Tumblr memes commenting on its lyrics, which detail the rise and fall of one of Imperial Russia's most head-turning figures: Grigory Rasputin. While the German, Irish and Australian discos it was played in no longer exist, if you want to listen to something like "Rasputin," there are always bops like "Daddy Cool" or Dschinghis Khan's "Moskau."
Number Two: Kostromin's "My head is spinning like a screw / Моя голова винтом"
Zig-zagging arms? Best friends despite being complete opposites? That's the trend Russian hip-hop artist Kostromin's breakout hit "My head is spinning like a screw" has been attached to. The song's music video, released on March 15, includes the dance that made it famous at the two-minute mark. If Konstromin's electronic beats and moody Russian lyrics fit your vibe, you might enjoy ssshhhiiittt!'s "The Saddest/Самый грустный" or IC3PEAK's "Fairytale/Сказка."
Number Three: Molchat Doma's "Vessel (Boris Ryzhiy) / Судно (Борис Рижий)"
The most ambiguous trend of the three, Belarusian synth-rock group Molchat Doma's dark yet danceable "Vessel (Boris Ryzhiy)" has been used in TikToks from fashion hauls to alternative aesthetic videos to cultural education about Russia. The song's lyrics come from the late Boris Ryzhiy's poem "Enameled Vessel," in which he conveyed he was struggling with depression and suicidal ideation. While "Vessel (Boris Ryzhiy)" is one of Molchat Doma's darker songs, they have a handful of upbeat tracks like "Discotheque/Дискотека" and "Heaven and Hell/Небеса и Ад." But if that post-Soviet grunginess is what you're looking for, check out their songs "I am not a communist/Я не коммунист," "Dance/танцевать" or "Roofs/Крыши."
About the Writer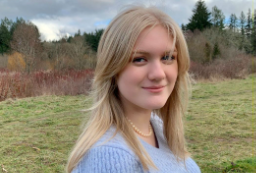 Ella Davis, Web Editor
Hi! My name is Ella, my pronouns are she/her and I am junior. This is my second year on the staff but my first as the web editor! When I'm not writing...