Students return to school unsure about new status quo
"Back to School." The good ol' phrase that strikes fear into most students every fall. It often reminds students of a summer reading assignment that they haven't started, or seeing a certain person that they haven't missed for the past three months. But for others, it means seeing their beloved teachers and friends and being able to root for their home football team every Friday night.
However this year, the iconic saying means something a little more. This year, students are going back to school on far more different terms than one is normally used to. After a little over a year removed from in-school learning, students made a return to the classrooms this Monday, April 19. While still amidst a pandemic, students were given the opportunity to choose to attend school either in-person, hybrid learning or to stay in their online classes.
With the return to school, Tualatin High School implemented many COVID-19 protocols for the two cohorts. These protocols include students walking on the right side of the hallways, maintaining social distance without stopping to socialize, allowing only two people in each bathroom at a time, sanitizing all classrooms before each class and requiring everyone to keep their masks on at all times.
In an interview with The Wolf, Tualatin High School freshman Joey Mattecheck gave his opinion on which option he chose and his thought process on how he came to that conclusion.
"I decided to stay at home for online school," Mattecheck stated. "I'm a freshman, and I've never been to high school before, and I want to wait until I can fully go back so when I first go to high school it feels more normal. I also enjoy online school because I can wake up 10 minutes before class, whereas if I went in person I'd have to wake up a lot earlier."
Junior Averie Searle also gave her opinion on her decision.
"I'm doing online because I think it would be safer for myself and my family. I live with multiple people who are high-risk, and I love them too much to put them in danger in any way," Searle reflected. "I do think it's great that there is the option to go back to school. I think that a lot of people need that escape right now."
As for senior Jackson Larrance, he was optimistic about returning to school.
"I chose hybrid just because I'm a visual learner, and I feel like seeing the course in a classroom is definitely more beneficial in keeping my grades high," Larrance said.
With the return to school comes excitement and concern for many students and families as they try to navigate their way through these unknown times. As for the high school, being able to learn and adjust will be vital for the health and safety of the students and staff.
About the Writer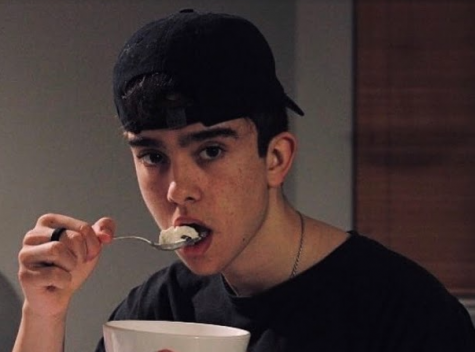 Simon Ulibarri, Staff Writer



Hi! My name is Simon and I am a junior and my pronouns are he/him. This is my first year on the staff. I joined newspaper because I wanted to take...