Pride Month watchlist entertains, educates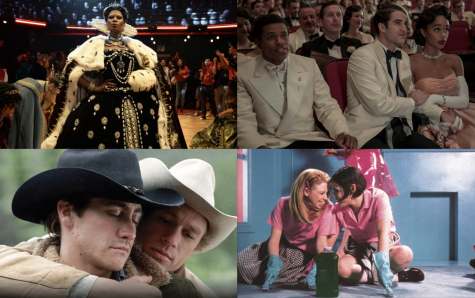 Pride Month 2021 is here which means it's time to check out some of the best LGBTQ+ representation in cinema and TV. Good representation not only provides quality entertainment but helps educate us about our community's past and inspires our future.
TV Shows:
"Pose" is a drama that follows Blanca Evangelista, a trans woman of color who sets up a house for homeless queer children in 1980s New York. Blanca and her children attend balls at which they compete for trophies by runway-walking high fashion categories. Pose is an unapologetic expression of queer artistry and a celebration of the struggles of the most marginalized.
"Elite" is a soapy murder mystery set in a prestigious high school in Spain and is full of diverse characters. The murder of a troubled rich student sets off a series of flashbacks into the events — and people — that lead to her death. The primary gay ship features a boy with bigoted religious parents and a wealthy kid who doesn't fit in among the ultra-elite.
"Hollywood" is an electric story about a group of ambitious actors and screenwriters trying to make a name for themselves in 1940s Hollywood. The hotshot characters are female, black, queer and poor. They fight racist studio owners who adhere to the Hays Code — the industry guidelines that blocked films that would "lower the moral standards" of audiences. Hollywood is an inspiring and thrilling tribute to the pioneers of representation in media.
Movies:
Boy Erased follows a family in the Deep South who finds out that their son is gay and sends him to an intensive Christian conversion camp. Unbeknownst to them, he is subjected to psychological abuse by heartless authorities. This film is at all times painful and infuriating but also eye-opening and sobering.
Brokeback Mountain is a classic of gay cinema featuring two sheepherders in 1960s Wyoming who fall into a confusing attraction for each other. The movie follows the years after they meet and their frantic attempts to conceal their love from both of their wives.
But I'm A Cheerleader is a comedy about a girl sent to a conversion camp with other lesbians and gays who are working through a "five-step program to heterosexual recovery." The girls wear pink in a pink room with pink furniture as they learn to do household chores and identify the "root" of their homosexuality. While dated in its humor, But I'm A Cheerleader is a hilarious portrait of some of the most absurd aspects of homophobia and gender expectations.
Pose, Elite, and Hollywood are all available on Netflix. Boy Erased is available for streaming on Peacock or for purchase on YouTube or Apple TV. Brokeback Mountain can be found on Hulu or Netflix. But I'm A Cheerleader is free on YouTube.