Full IB Diploma: Helpful or Harmful?
The International Baccalaureate (IB) Diploma Program is an academically challenging program offered in the Tigard-Tualatin School District (TTSD) and across the world. Many juniors and seniors at TuHS take at least one IB class, and there are 33 TuHS students this year who are pursuing the full IB diploma.
In order to investigate their experiences with the IB Diploma, we sent out a form to these 33 IB Diploma candidates collecting data regarding their academics, health and more. 29 candidates responded. The entire findings can be accessed on our website.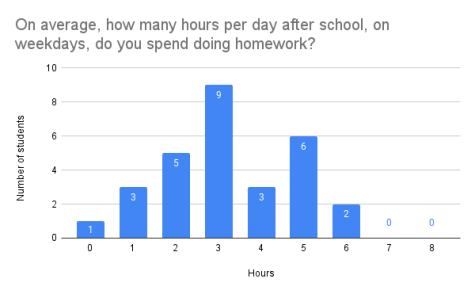 In terms of academic work, 31 percent of respondents spend an average of three hours on homework on weekdays after school. 20.7 percent of respondents spend an average of five hours. These hours do not change greatly on weekends, as 24.1 percent of respondents still spend three hours on homework and 20.7 percent of respondents spend four.

The Center for Disease Control recommends teenagers aged 13-18 get 8-10 hours of sleep per night. In 2019, in Washington County, only 26.0 percent of eleventh graders got the recommended amount of sleep. In our survey, only 17.2 percent of respondents, or 5 out of 29 respondents, get the recommended amount of sleep.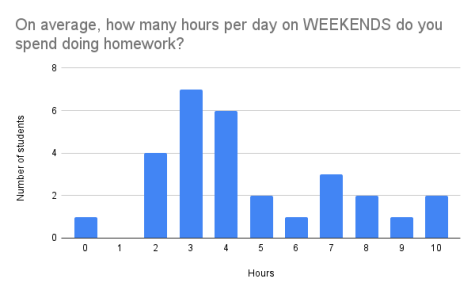 31 percent of respondents would place themselves at an 8 on a stress level scale of 1-10 (with 10 being the most stressed). Finally, 41.4 percent of respondents, when asked how taking IB classes has affected their mental health, indicated themselves at a 1 on a scale of 1-5, with 1 being very negative and 5 being very positive.
Most students cite college credits earned as an advantage to completing the IB Diploma Program.
"Most of the point of the diploma is the college credit. You could go abroad with it easily, or you could get the points at a US school easily. It's most of the point of why I'm doing it," said senior Dean Horton.
A positive of the program emphasized by many students are two required courses taken in junior year and first semester of senior year, IB Seminar and Theory of Knowledge. IB Seminar is a class dedicated to directing diploma candidates on the right track for full IB, focusing on CAS and student health and wellness, while Theory of Knowledge discusses different ways of knowing and the nature of knowledge.

"I really enjoyed the people in the program and teachers, and most of the teachers are really supportive and are there for you," senior Kayla Smith said.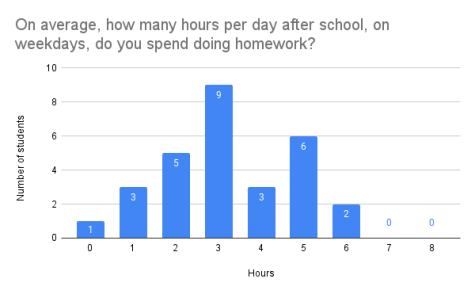 In Theory of Knowledge, IB Diploma candidates must submit the Extended Essay, a 4,000 word research paper, on a topic of their choice. Senior Sam Roach is a fan of the requirement. For his paper, Roach wrote about the economics of electric vehicles and says he is considering further studies in the field.
"To be able to do [the Extended Essay] in high school was a jumpstart. I'm going to write a lot of research papers in college, and it's good to be able to have the opportunity to learn that skill," he said.
Though there are numerous benefits to the IB program, this difficult, time-intensive program comes with its share of downsides, as well. Many students do find the workload intense.

"It's very stressful, and I've enjoyed a lot of the teachers and the classroom community. However, the workload is nuts," senior Noah Gilbertson said. "I sacrificed my mental health. I'm a big procrastinator, so I put my friends before school, so I don't really miss hanging out with friends. Family though, yikes. I don't really see them much with homework."
Similar to Gilbertson, other students struggled to balance the workload along with other activities due to the time commitment of the IB program.
"Having a job and doing sports at the same time definitely didn't help the workload that I had and made me have many sleepless nights while trying to do my work," senior Dean Horton stated. "The classes are fine, but the additional workload gets you in the end. Theory of Knowledge is where they shove the additional workload. I sacrificed sleep."
Though seniors tend to have the heaviest IB schedule, juniors are also affected by this, as this is when the two-year-long program begins.
Junior Ben Wyland stated that the "biggest negative is the workload. It's a little bit more than you would usually do, and it's a lot harder and more studying."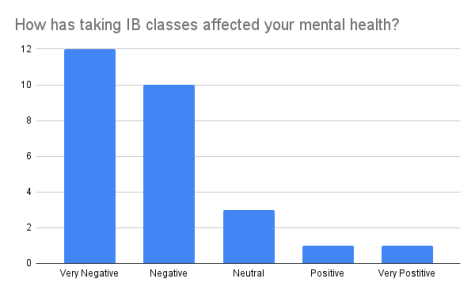 The IB Diploma Program, in addition to having internal benefits, such as the more engaging coursework and the community it offers, comes with several post-graduation benefits. Although many students consider the benefit of the program to be the college credits, there are substantial lesser-known benefits, such as the ease of college course-work compared to the level of work while in full IB.
"If you're able to keep your head above water… [or] about level with the water in full IB, you're going to do incredibly well in college," Oregon State University sophomore and TuHS graduate Aidan Wittman said.
While high school requirements often mean students must attend for four years, colleges rely on the number of credits students have to determine when they graduate. Students with college credit coming out of high school can often graduate faster, saving money.
"This is my second year at college… and I have senior standing," Wittman said.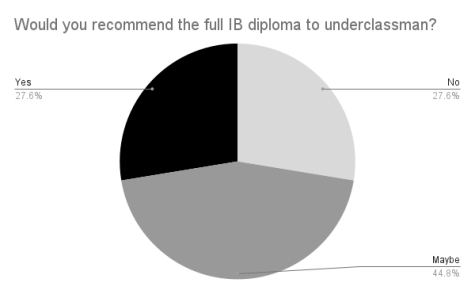 Tthe college credit or even the potential ease in college is not the primary purpose of the program, however, according to the IB Organization. The International Baccalaureate program was derived on the ideology that education should be an introspective process, tasked at creating more curious and educated global citizens.
"You have to look for those connections… and if that's sort of exciting, the diploma is going to be really enriching and rewarding," IB coordinator and teacher Shem Malone said.
And many students do find enjoyment in this style of learning.
"It's been a very positive experience. It's challenging and expands horizons in an interesting way compared to normal level classes," Wyland said.
Malone also highlighted the importance of pursuing the program for motivations outside of college credit and a boosted weighted GPA.
"If your only goal is for accolades, IB is not for you…. You have to have balance and care about education," Malone said.
The IB Diploma Program at Tualatin High School has a variety of impacts on the students who enroll as candidates, and current IB Diploma students emphasize that it is important for underclassmen to consider everything before making their decision. There are pros and cons for doing full IB, they say. Students need to make their own lists to figure out if IB is worth it for them. IB is not beneficial for every student, according to the student responses, but it still can have a positive impact on others. It is also incredibly important that a student wanting to do full IB is completely aware of what they are getting into, such as the workload, the lack of sleep and the possible loss of time spent with friends and family, they say.