TuHS travels around world with Culture Week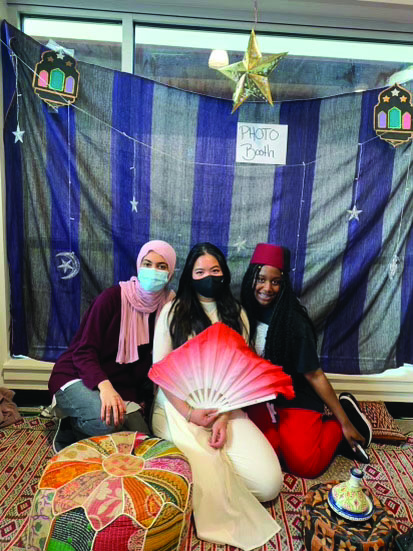 Have you ever wanted to learn about different countries and their cultures? Look no further than TuHS's first Around the World Culture Week! Held during the week of May 9, Culture Week was hosted by the TuHS affinities groups Tualatin Black Student Union (BSU), Muslim and Arab Society (MAS), Asian Conversation, Tualatin MEChA and Tualatin Pacific Islanders.
Jayanna Robertson, president of BSU, Awatif Al-hawani, president and co-founder of MAS and Tiffany Dang, vice president of Asian Conversation, helped organize the event.
"We just came together and thought, 'What if we could plan an event that brought everyone together, no matter their background, culture or tradition?'" Dang explained. "Our initial plan was an assembly, but it got canceled, so we decided to do a whole week with the affinity groups instead."
All week, the north commons were occupied with an assortment of cultural booths that each group set up. Students were welcome to browse and participate in the activities to learn more about the cultures. At most of the booths, there were trifolds with information about the countries, and students were given a passport that they could take around and get stamped for a prize. There were also other fun things such as photobooths, gifts and food.
Additionally, the affinity groups shared special activities or performances throughout the week. For example, Pacific Islanders performed a hula dance, and Asian Conversation showcased a traditional Vietnamese and Lao dance. Finally, on Friday, everyone at school was encouraged to wear traditional clothes from their own culture.
Robertson, Al-hawani and Dang agreed that the importance of the week was to embrace different cultures and bring everyone closer together.
"We aimed to bring some sort of diversity to the school because it already has that diversity, and we just needed to bring that out to the students and make it visible. You could be sitting next to someone in class and not know their background, so I feel like an event like this really brings out those stories," Al-hawani further explained. "I hope that this becomes a tradition that grows and brings something new every year!"