Proposal to add new sports to 2024 Olympic Games in progress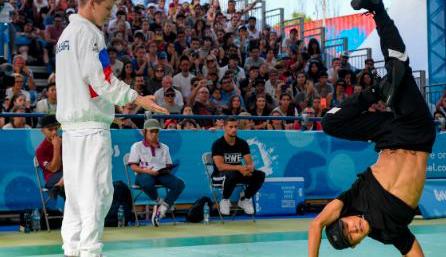 Meghan MacPherson, Sports Editor
April 22, 2019
Hang on for a minute...we're trying to find some more stories you might like.
As Paris begins to gear up for the 2024 Summer Olympic Games, the International Olympic Committee has proposed that break dancing, skateboarding, sports climbing and surfing may be added to the line-up of medal events.
According to a new IOC proposal, host cities are permitted to suggest extra sports that athletes can partake in during their country's event. Committee members have already approved skateboarding, sports climbing and surfing to debut at Tokyo 2020, but break dancing would be a completely new addition to Paris's lineup.
There has been heavy debate over the concept of adding new sports given the additional burden it places organizing committees to meet costs of featuring new events.
"
…break dancing could be a completely new addition…."
Although break dancing has never been seen at the traditional Olympic Games, the sport was included in the 2018  Youth Olympic Games in Buenos Aires, Argentina, which viewers enjoyed watching. The goal of the break dancing proposal is to add an urban and artistic side that is currently missing from the games, as it has become increasingly more popular around the world.
The Youth Olympics featured head-to-head "breaking" battles between competitors, and a similar format would be used in Paris.
As far as skateboarding, sports climbing and surfing go, the world can prepare to watch contenders compete  in the new additions next summer, with the 2020 Tokyo Games beginning on July 24.