Cheer, stunt thrive in winter season
From the time they left for Eugene to when they returned to the school, Tualatin High School's cheerleaders endured a painstaking 18-hour day of intense competition at the OCCA All-State Competition on Nov. 9.
In the partner stunting division, juniors Brendyn Riddle, Jacob Duncan and Anthony Portscheller took first place for their routine. They competed against other partner stunt groups from other cheer teams, as well as groups of their own teammates.
To prepare for such an event, Riddle explained that what proved most difficult were the practices.
"It's really stressful, just because there was a lot of pressure on us because our whole team was competing in it. Just practicing with all of them there [was difficult]," she said. Although they were in competition with their fellow teammates, Riddle added, "It didn't really feel like we were competing against them. We were all there supporting each other."
While he does stunts with her, Portscheller shares that his mind stays most focused on one thing.
"Technique. Never in my mind is someone going to fall or anything. So it's really just being careful. But with partner stunting, I'm always really nervous about technique, because all the pressure's on me."
Although their sport is clearly high pressure, it's evident how much cheer means to them in the way they talk about it. This particular competition was a special one.
"From all the hard work we put in, it actually paying off is the best feeling ever," Riddle said.
With such an outstanding performance at this competition, great things are expected from the TuHS cheer and stunt team.
About the Writer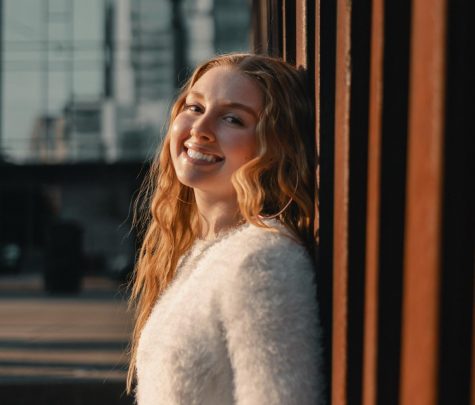 Catherine Phipps, Humor Editor



Hi I'm Cate (she/her), this is my second year on the staff and my first year as Humor editor because I'm really funny. I joined newspaper because...