PDX Thrifts: Goodwill Outlets offers quirky, one-of-a-kind pieces
With climate change spinning out of control, a focus on implementing sustainable living is growing. Most people tend to search for things they can reduce or cut out of their lives like meat consumption or single-use plastic, both of which are great options that have very positive impacts on the environment. What if we told you of a way to significantly reduce your environmental impact, without sacrificing a thing?
The fast fashion and clothing industries are responsible for about 10 percent of global carbon emissions. Retailers like Zara and H&M make fashionable clothing that is fiscally available to the masses, but the cheap labor and irresponsible production habits of those companies are hardly trendly. And while ethical brands like Reformation and Boden do exist, the price barrier makes them inaccessible to the average person. Luckily, thrifting provides a great alternative.
Second-hand and consignment stores can have brand-name items that are inexpensive and environmentally friendly, a win-win if you ask us. The Greater Portland area has some excellent thrift stores, one of which is the Goodwill Hillsboro Outlet, fondly known as "The Bins."
When thrifting at the Goodwill bins, it is a good idea to wear gloves. As anyone who has been can confirm, 90 percent of thrifting is spent digging through stained and faded clothing until your arms are sore. The struggle is so worth it when you come home with the coolest haul. Don't forget to wash your clothes before wearing them!
Mahathi:
Yellow Pullover:
This beautiful thing was most definitely my favorite find of the day! When thrifting, it's pretty rare to find something in such good condition without any mysterious stains on it, so I was pretty stoked about this! Pullovers are so versatile and easy to dress-up or dress-down. You can layer it with a button up and some nice jeans and pretend to be Harry Styles for the day, or throw it on with some sweats for a cozier approach. All this possibility for the whopping price of about $2!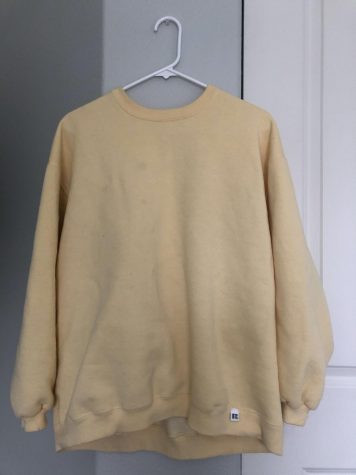 Dino Vest:
When thrifting, risk-taking is inevitable, almost necessary. If you were to ask my advice, I'd tell you to take risks within reason. With that said, I did purchase this Gymboree size 3T, little boys dinosaur sweater vest. I tried as hard as I could to talk myself out of it but the little dino was just calling my name! I purchased it with the intention of washing it, then seeing just how far I could stretch it. Shockingly enough, I managed to stretch it enough so that it fit, only for my dad to accidentally throw it in the dryer, where it shrunk to even tinier than when I purchased it. Needless to say, my dog enjoys his new sweater!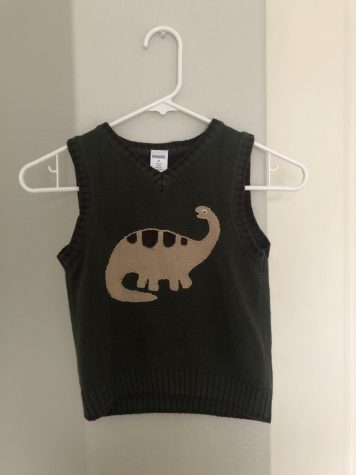 Claire:
Ribbed Long Sleeve:
Even though this shirt is eight sizes too big, I think it is a great find to be layered with a turtleneck underneath and black leggings or straight leg jeans. The ribbed material and single stripe across the front gives the piece some extra flare. Though it's very possible to find this exact shirt in the little boys' section of any clothing store, it is definitely a steal, and sustainable, too.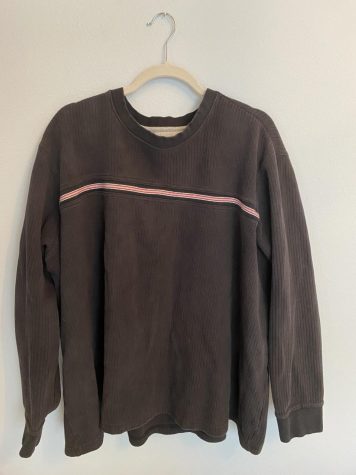 Blue V-Neck Sweater:
Once again, my perception of size failed me, but let's just call it the trend. Normally, I would never go for a v-neck sweater, but my recent obsession with layering got the best of me. This deep blue color goes nicely with black jeans and a black mock neck, keeping warm and looking fly as always. Any pair of sneakers or boots can pull the outfit together, but I would go with white low-top platform Converse for the extra height and, of course, the style.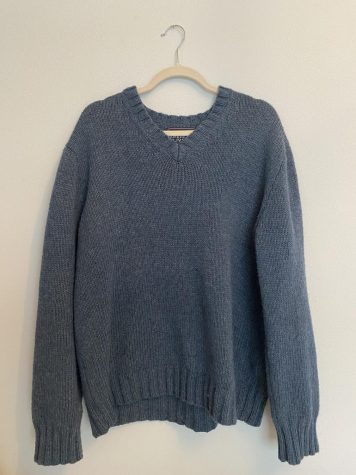 Hannah:
Pink slip dress:
This light pink satin slip dress is perfect for a warm summer outfit when layered with gold jewelry and sandals or white Nike Air Forces for a more casual look. For wintertime I would pair this with a white turtleneck and tucked into high-waisted jeans for a chic but warm look. Finally, I would wear some black boots to pull the outfit together. This dress was definitely a steal and is perfect for sitting in my bathtub and crying while listening to "Drivers License" by Olivia Rodrigo.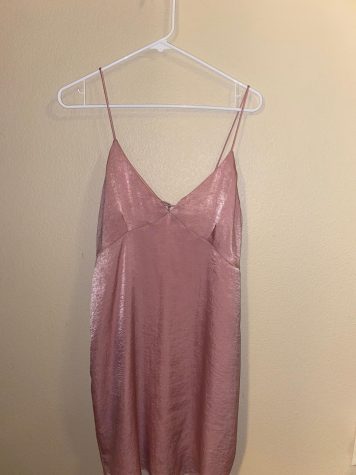 Blue cardigan:
I was so excited to find this navy blue cardigan from Talbots. Personally, cardigans of any color are a staple for my closet. They're easy to pair with dresses and skirts for a warm but cute look and also perfect with jeans and a plain tank. Unfortunately, this cardigan is dry clean only, but luckily I'm not too worried about ruining the quality of a 20-cent sweater.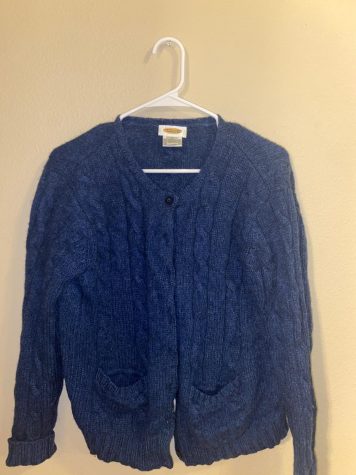 Brown maxi skirt:
I fell in love with the skirt instantly, as I've been looking for more brown pieces in my closet. I recommend only buying things that color coordinate and ultimately that you will be able to match with other clothes you already own. I love the simplicity of this skirt and am excited to wear it with a black turtleneck, black high-heeled boots, a small black bag and gold jewelry, of course, to pull it all together.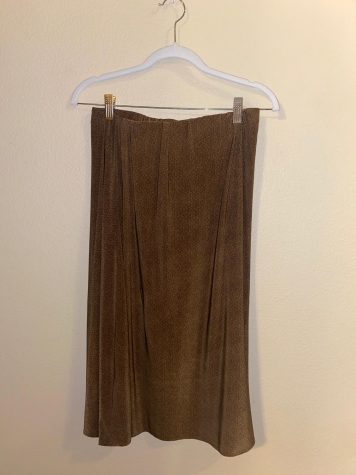 Emily:
Brown jacket:
If there's a force against my political campaign in 20 years, I'll bet you it's PETA attacking me for this jacket. It's genuine leather. Of course I feel bad. Sustainability-wise, however, destroying this jacket would be worse than lengthening its lifetime.
This silhouette is timeless. Fur finishings wrapped around the wrist and the neck glamorize the jacket to be more than just a lumberjack's uniform, but a staple in any closet.
Jackets are definitely the most easily-found item at Goodwill and any good jacket should hold up against multiple owners. Forget your H&M's and Zara's—buy your jackets at Goodwill instead.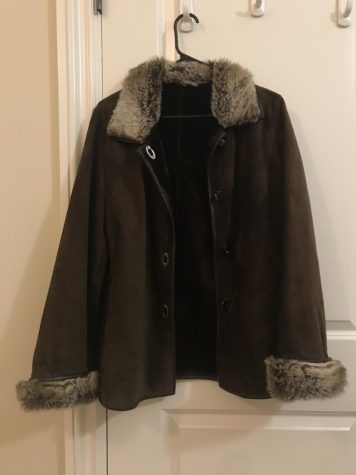 Green coat:
When I saw this jacket, I swear to you, I cried a little on the inside. It's DKNY and it reminded me of a dress in Brandon Maxwell's Spring/Summer 2020 collection that was worn by Dr. Jill Biden at the Democratic National Convention. I mean, this probably costs hundreds.
Even though it's a size 8, it fits like a glove. I felt like a pig in a blanket. The shoulders are exact, the sleeves are just a centimeter farther from my wrists. I didn't have a long coat in my closet, and I wasn't looking for one, I just happened upon this one. There's a couple of things in my closet I could never give up: my Doc Martens, my Madewell flare, my Gloria Vanderbilt ¾ sleeve, my New Yorker tote, and now, my DKNY green coat.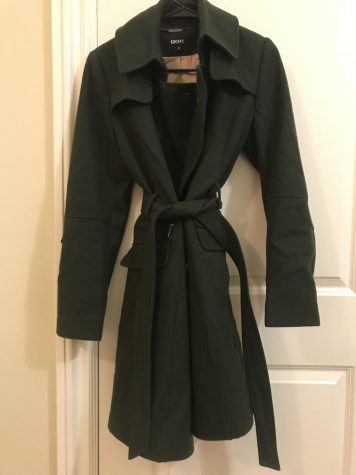 Our #1 tip is to buy clothes that are utilitarian. Ask yourself whether or not the piece would fit for the season: if it's a winter jacket, "will it be warm enough on its own or will I have to find other pieces to layer up with it?"; if it's a dress, "for what occasions can I wear this?". Make sure you have at least five items you can wear a potential piece of clothing with. If you have to buy something new to make the piece work, then don't buy it.
Lastly, remember to always be mindful of others when thrifting. Although second-hand shopping is a more ethical approach to avoiding fast fashion, it's also important to consider lower-income families who don't have as many options and can only afford buying from second-hand stores. Shopping in moderation is key to being thoughtful while avoiding clutter in your closet. Happy thrifting!