Matthew McConaughey's Greenlights exceeds expectations, delivering profound, meaningful memoir
Matthew McConaughey released his memoir Greenlights on Oct. 20, and, being a fan of his movies, I was very excited to read it. I started reading the book expecting a fun, lighthearted memoir filled with stories of a fun-loving guy. I finished the book dumbfounded at his life experiences and the profound lessons he learned from them.
"Unflinchingly honest and remarkably candid, Matthew McConaughey's book invites us to grapple with the lessons of life as he did—and to see that the point was never to win, but to understand," Mark Manson, author of The Subtle Art of Not Giving a F*ck, said.
Greenlights is a collection of stories and poems that have shaped McConaughey and taught him life lessons. However, Greenlights is also a concept that McConaughey touches on frequently. A greenlight essentially means go (What? No way!). When applied to aspects in life other than driving, they are moments that open a door for you to move forward. These can be purely chance or something you've worked for. They can also come in the form of yellow or even red lights that you only realize were greenlights when looking back on them. Every story in his book leads to a greenlight in his life.
"I think McConaughey is a free spirit and his memoir showed a man who was willing to take risks, and when he did he was very dedicated to being the best he could be. I also think he showed a great deal of humanity in his adventures, however not always in his personal relationships," a member of the Tualatin community shared in an interview with The Wolf.
The only thing I would warn against is that a good portion of the book focuses on his less-than-perfect childhood. If you're not comfortable reading about physical abuse, alcoholism and other such topics, this book might not be for you.
That being said, each story is gripping in its own way. Not once was I bored reading and often found myself reading for hours at a time. Due to that, I finished the book in two days.
Something I really liked about the book is you can practically hear McConaughey reading the words. It sounds just like him, and I'm glad he didn't sacrifice the voice of his writing for correct spelling and grammar throughout the book. That being said, he is extremely eloquent and his writing reflects that.
Personally, after reading the book, I felt like my perspective on life had been shifted from a usually pessimistic outlook on life to seeing things as opportunities, not obstacles. But, if you're not looking for a super meaningful and thoughtful book, this can be that as well. You could very easily just read the book for the entertainment value.
In short, Greenlights is a meaningful reflection on the trials of life written by a man who has certainly had his fair share of them. It can either be read as a profound journal of a man's search for understanding or as a lighthearted retelling of gripping adventures. Should you choose to read it, I hope you enjoy it as much as I did.
About the Writer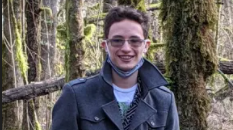 Ethan Glick, Staff Writer



Hello, my name is Ethan Glick. I am a sophomore, and my pronouns are he/him. I am a staff writer as it is my first year on the staff. I joined...