Kindness Club celebrates Random Acts of Kindness Week
Random Acts of Kindness Week, also known as RAK Week, is a global holiday observed on the week of Feb. 17 to encourage kind actions and the "pay it forward" mentality. The special week was first established in 1995 by the Random Acts of Kindness (RAK) Foundation, a nonprofit organization that has made it its mission to spread awareness that all kind actions, however small, can create a powerful impact in the lives of others and in the world.
The idea behind RAK Week is to inspire individuals to uplift others with kindness shown through the simplest of words and actions, whether that be smiling at a clerk at the register, complimenting a friend or planning a pleasant surprise for a family member. After all, everyone can always use a little more kindness in their lives.
"I think [RAK Week] serves a great purpose in letting everyone have the opportunity to show kindness to those around them," Kindness Club officer Jenna Luong said. "Of course, no one needs a reason to be kind and we should just focus on being kind to everyone no matter what, [but] I love the message that [RAK Week portrays] and how it motivates people to just do good."
Last year, before the pandemic struck, Tualatin High School Kindness Club celebrated RAK Week for the first time by putting up a "words of encouragement" sticky note wall, launching Kindness Spirit Day, and offering students the chance to write letters of appreciation to their peers and teachers.
"[Kindness Club] encourages kindness and also seeks to improve our school's community. Member-wise, we aren't very large, but our projects influence many students. A lot of hard work and good ideas from our club lead to school-wide impacts," Kindness Club Co-Founder and Vice President Janelle Bingham said. "It was wonderful to see the participation [that our projects have] received!"
For this year's RAK Week, Kindness Club remained determined to continue fostering connections and spreading positivity, despite the challenges that the COVID-19 pandemic presented. The Kindness Club invited students to participate in two activities to celebrate: the "RAK Challenge" and "Third Party Compliments."
"One way we celebrated was [by creating] a 'Kindness Challenge.' Basically, it's a checklist of COVID-safe and inexpensive random acts of kindness ideas," Kindness Club ASB Representative Amanda Jiricek said. "Because of power outages, we are extending the challenge and encouraging people to not only spread kindness during the designated week, but all the time! If you take a picture and send it to us via email [[email protected]] or Instagram [@tuhskindnessclub], you can get featured for your amazing work!"
The other way Kindness Club celebrated was through the "Third Party Compliment" form, where students were offered the opportunity to submit compliments to their peers or teachers. Kindness Club then helped to send these kind messages through email.
"[The Third Party Compliments] may be my favorite thing that we have done this year because it gives you a chance to reach out and compliment random people (anonymously or not) and just overall spread some good thoughts and vibes," Jiricek explained. "I have had so much fun reaching out to random people, there is something really cool about not knowing where the positive moments come from, but just knowing [that] they happen."
Despite the difficulties of 2020 that will still undoubtedly remain through much of the foreseeable year, the student body can be assured that the Tualatin High School Kindness Club, with its team of "RAK-tivists," is continuing its mission to bridge connections with compassion, demonstrating the words of Greek fabulist Aesop: "No act of kindness, no matter how small, is ever wasted."
About the Writer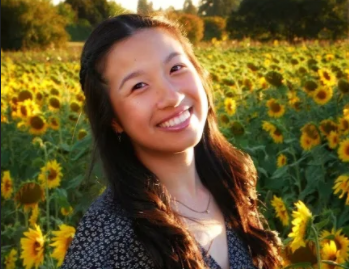 Claire Ku, Staff Writer
Hello! My name is Claire Ku, I'm a senior and this is my first year as a staff writer. I joined newspaper because I enjoy writing and wanted the chance...