Oregon winter storm causes power outages, affects communities
A winter storm brought ice and power outages to numerous Oregonians last month.
Anticipating snow, many were greeted with thick layers of treacherous ice, causing precarious conditions and unforeseen power outages. Beginning Friday, Feb. 12, the storm made its historic entrance by darkening neighborhoods, the primary collateral damage of fallen trees.
As the outages became widespread, affecting hundreds of thousands of homes, people were left cold for days due to below freezing temperatures. Despite Portland General Electric's (PGE) around-the-clock efforts to restore power, toppling branches and trees persisted in making access difficult for restoration. According to their CEO Maria Pope, this damage was "the worst" in PGE's history.
"We lost power for two days from Sunday until Tuesday afternoon. We were really cold for a couple days, but we do have a fireplace…we have a camp stove so we just cooked our meals on our porch outside," Jessica Porter, a TuHS English teacher who was among those affected, said.
Like Porter, many were able to utilize their fireplaces and safely come up with ways to cook food. Others were not so lucky and, without knowledge of the risks associated with carbon monoxide poisoning, used alternate heating methods inside their homes to keep warm, such as barbeques and camp stoves. After these methods resulted in several deaths, news outlets and authorities began warning of the potentially deadly consequences.
As the ice melted, power outages continued. PGE reported 6,400 power lines still down as of Wednesday, Feb. 17, about six days after the initial outages. Because of the prolonged power restoration the storm caused, Governor Kate Brown deployed the national guard in an effort to ensure the welfare of residents hit hard by the weekend's storm. Trees and branches weighed down by ice hung lower than usual or completely fell, many causing damage to people's vehicles and homes.
"Tualatin, overall, was a complete mess. It was unsettling to witness the aftermath of the storm, and my heart ached especially for homes that were destroyed or ones where the owners don't have the means to fix the damage it caused," Katelyn Livermore, a TuHS senior who also experienced a power outage, said.
Fortunately, while it varied, many Tualatin residents' power was restored by late Wednesday, Feb. 17, while other cities didn't see power restoration until multiple days later. Having the lights back on didn't solve all the problems, though—there were still streets, sidewalks, cars, houses, trails, etc. that had damage requiring attention.
Communities joined together and helped clear trees and their scattered limbs, assisting each other in the cleanup process. Tualatin in particular set up four free drop-off sites where people could bring remains that wouldn't fit in their yard debris bins. These sites included Tualatin High School and Ibach Park. The locations' parking lots could be seen piled with tree branches.
As of now, power is restored across Oregon and community efforts to clean cities have proved successful.
"The February storms brought significant damage to our communities and many of our customers lost power for an extended amount of days. During this time, we saw how Oregon communities come together and areas where we can improve for our customers," a post to PGE's website stated.
About the Writer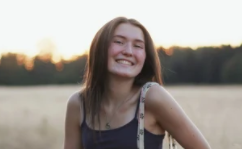 Isabella Kneeshaw, Staff Writer



Hi! My name is Isabella and I am a sophomore my pronouns are she/her. This is my first year as a staff writer for The Wolf. I joined newspaper...