Flo Horne prepares to retire alongside graduating class
In an exclusive interview with The Wolf in November of 2018, Campus Security Lead Flo Horne revealed her plan to retire in June 2021 alongside our current Senior Class. Now that the time has come for Horne to move on, we figured we'd check in with our on-campus mother to see where she's going next.
Horne has been working at Tualatin High School for the past 18 years, quickly becoming one of the school's most loved and cherished faculty members. She is well-known for the conversations she carries as she patrols the hallways and the amount of time she puts into getting to know each student.
Why did she choose to retire in 2021 in particular? Horne's answer is simple: "It's time to move on to other things."
Her upcoming plans include "[g]oing to Wisconsin to spend time with my mother" and making sure to "live" her life to the fullest.
Horne's favorite memory from her time at Tualatin was when the Black Student Unions (BSU) "came here to TuHS from all the schools in the district. [It was a] beautiful sight to see." Horne takes great pride in the work she and the members of the BSU put into promoting diversity at TuHS.
Horne's proudest accomplishment related to her work at TuHS—outside of her work with the BSU—was her ability to stay "faithful to who I am." Out of everything, though, the thing Horne will miss most about working at TuHS is all the "[s]tudents and friends I have had great relationships with."
As we say goodbye to Flo Horne, she too says goodbye to the students for the last time, taking this opportunity to tell the Class of 2021 to "keep reaching for the stars. Follow your dreams. Love you all."
Although we can't all hug Flo goodbye due to the COVID-19 pandemic, we may be able to grant her her wish from way back in 2018: "When I retire, in June 2021, I want all the kids to meet me on the football field, and just be there when I say 'Peace out,' and walk off. That's it. That's it. That's all I need."
About the Writer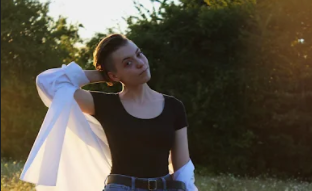 Emma J Nelson, Editor-in-Chief
Hello! My name is Emma J and my pronouns are she/her. I am the co-editor-in-chief of The Wolf and I'm currently in my senior year. I joined newspaper because...