Mr. & Ms. T contestants talk fundraiser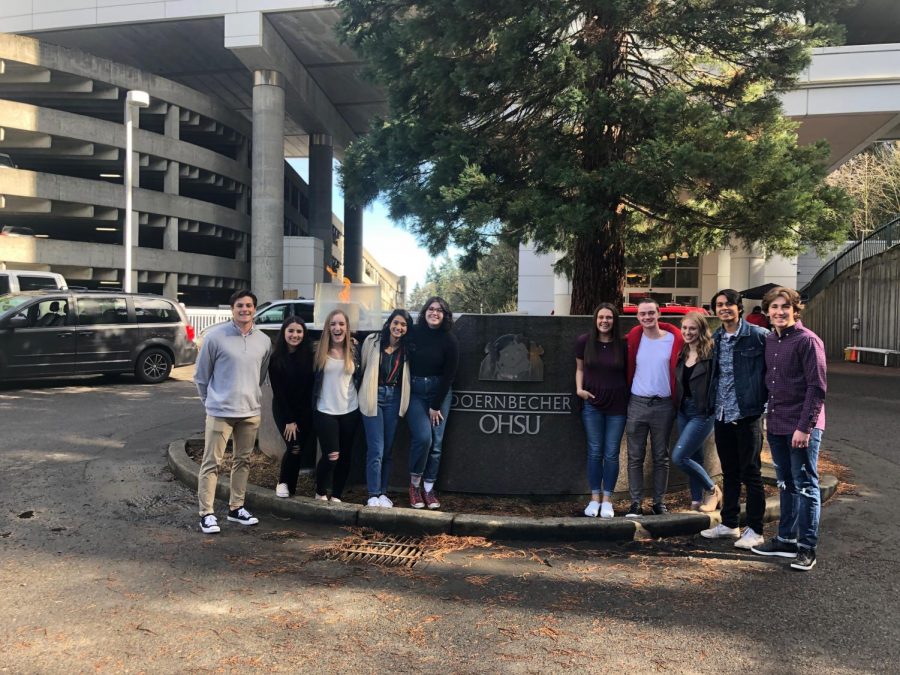 Anna Sung, Staff Writer
March 22, 2019
Every year, TuHS hosts a Mr. and Ms. Timberwolf fundraiser pageant that works alongside Doernbecher Children's Hospital to raise donations for Kids Making Miracles. KKM is a non-profit fundraiser that allocates 100 precent of theproceeds to immediate pediatric health care needs and kids with cancer. This year, the goal is to raise $11,000 and The Wolf  has interviewed all the couples for this year's competition.
What made you guys decide to run for Mr. and Ms. Timberwolf?
Laurel: "Simran and I are really involved in the school academically, but we don't really do anything besides that. Since it's our senior year, we decided we wanted to do something that would help us get more involved in school, prompting us to decide to do Ms. and Ms. Timberwolf."
Drew: "Kyle brought it up to me first and asked if I wanted to do this competition with him. He and I have done a lot athletically here, and I thought that doing this would be a great way to give back to the school and the community."
Abbey: "For me personally, I really wanted to do it because I spent a lot of time in the hospital when I was younger. I felt compelled to do it and thought that this was a good way to give back."
What do you hope to achieve at the end of this fundraiser?
Josiah: "This might sound cliché, but we hope to make a difference in someone's life, even if it's a slightly better one. If we can improve one or two things in their lives, that would be the ultimate goal."
Megan: "To raise money for Doernbecher, bring awareness to the community and to build stronger relations with everyone involved in the pageant."
Taylor: "I'm a current patient at Doernbecher, and I have been since seventh grade. And so I want to ultimately help the hospital that has helped me for so many years."
Who do you think is your biggest competition?
Kyle: "Everyone's working hard, but I would probably have to say Simran and Laurel have been the most aggressive with their jars. Kids on ASB also have a pretty good platform to raise a lot of money."
Simran: "Laurel. We might seem like we're on the same team, but she has a shady look in her eyes, and I feel like she might try and backstab me. Who knows, maybe she'll try and go the AP route."
How did you and your partner come up with your pageant title?
Enrique: "Newspaper is a really big part of my school life, and I'm really proud of what I have done on it. So I felt that it was something I would be proud to represent."
Simran: "Full IB has destroyed our lives and it has only been negative. So I think this is a really good way for us to put a positive spin on the IB program."
Why should people give money to you?
Allesandra: "You can donate to anyone you want. It doesn't matter because it all goes to the same place. But if you want Juniors winning for possibly the first time, then donate to us!"
Kyle: "They should donate no matter who it is. If they can donate to us, that will certainly help our cause on winning the pageant. But if they don't donate to us and decide to donate to someone else, I thank them for that."
What do you think about the charity and how do you think this will impact you in the long run.
Richy: "This is an amazing cause, and there should be more fundraisers such as Kids Making Miracles to help get students involved. I hope to not only make an impact on the kids that will be receiving the donations, but to also spread awareness and help people realize how much of a change they can bring into someone's life."
Easton: "I really stand behind the cause and this charity. My family has had a lot of history at Doernbecher Children's hospital because my 2-year-old cousin had Leukemia. They did a lot for us and helped us out during hard times. Now he's alive, healthy and happy which gives me a lot of motivation."