Tualatin men's basketball team wins second consecutive state championship
Both the Tualatin High School men's and women's basketball teams had an incredible season this year, which ended in their performances at the Chiles Center last week.
The third-placed girls' team in the state gave it their all in the first round of the playoffs, yet were defeated, ending an outstanding campaign. However, the men's team, ranked 3rd in the state, went on to make history, winning their way to back-to-back state championships.
The men's team started off strong, defeating Beaverton, the #6 seed, 63-54 in the opening round. After that, they kept winning, beating the #2 seeded Barlow team by a score of 68-55 in the semifinals. Their toughest challenge came in the final, where they faced off against the #4 ranked team in the nation on USA Today and the unanimous #1 team in the state, West Linn.
The Tualatin's men's team, led by Jojo Lake II, Jaden Steppe, and first-year head coach Bubba Lemon, persevered in the face of overwhelming odds and was able to win the championship title for the second consecutive year. The final score was 60-47, and the Timberwolves became the first team in Oregon history to win back-to-back state championships with four graduated starters from the year before.
It's notable that Bubba Lemon was a first-year head coach for the team. Despite being new to the role, he led his team to an amazing victory. His players say this achievement shows his leadership abilities, as well as the respect and trust he was able to garner from his team.
Overall, the basketball teams at Tualatin High School had fantastic seasons, demonstrating their talent and determination on the floor. The women's team's courageous efforts and impressive ranking are cause for celebration, even though they did not advance as far as the men's team.
And as for the Tualatin men's team, their back-to-back state championships will undoubtedly go down in history.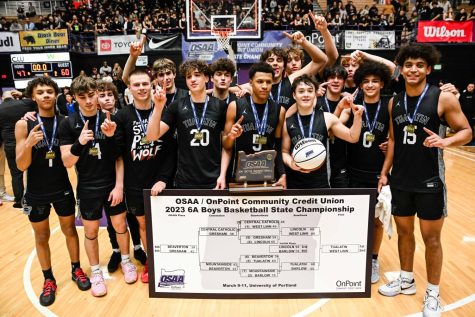 Photo by Naji Saker (Naji Saker Photography).
The TuHS men's basketball team made history with its second consecutive state championship win on Saturday, March 11, at the Chiles Center.