Taylor Swift's "Folklore" prompts fan theories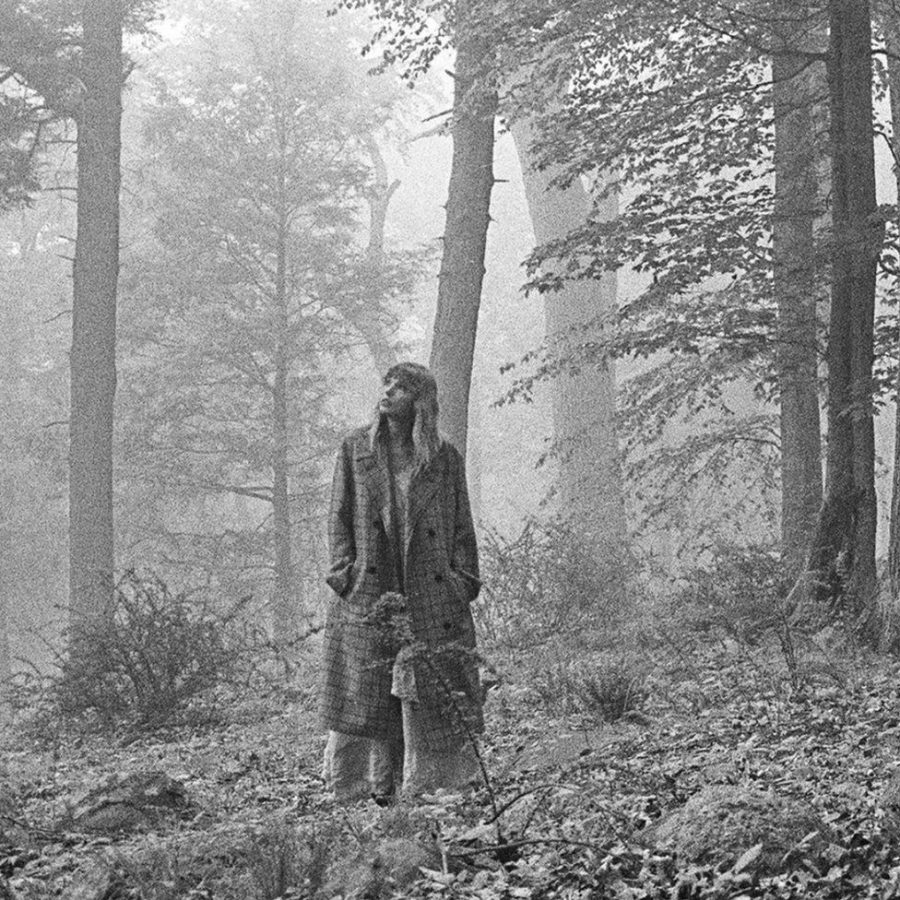 Usually only releasing an album once every two or more years, Taylor Swift fans were shocked and ecstatic when she announced her new album, Folklore. The announcement came the day that it was set to be released, just one year after the release of her previous album Lover. Even though the genre of music was very different from her other albums, Folklore still debuted at number one on the Billboard 200 chart and many of her albums are still on that list today.
Swift is known to drastically change her genre of music in each album she releases, keeping fans on their toes. In the past, she has dabbled in components of country, pop, hiphop, rock and much more. Folklore is Alternative/Indie, which is unlike any of her previous works. In her recent documentary, Miss Americana, directed by Lana Wilson, Swift suggests that her ever-changing style of music is thanks to the constant need for females in the music industry to reinvent themselves to keep fans interested.
Folklore was released on July 24, 2020, and was Swift's eighth studio album. The entirety of it was written in quarantine during the COVID-19 pandemic. First impressions of the album consist of themes of melancholic, calm and sad elements in the sound of the music. After Swift commented that the songs "Betty," "Cardigan" and "August" represented a teenage love triangle from three different perspective points, fans eagerly tried to find real stories to connect to the words, only to be reassured by Swift herself that it was based upon made-up characters. She then went on to tweet that she sees each of the songs in Folklore as chapters in a story.
A few fans have delved deep into the meanings and backgrounds behind each song, and concluded that Swift is a mastermind. Even though she claimed that the characters were made up, people suspect it is a glorified and glamorized love story based on real people that used to be in Swift's life.
One fan connected the songs into a story that went semi-viral and has many other fans believing this theory. It is essentially about two high-school lovers, James and Betty. The songs "August" and "Mirrorball" describe an affair that James had with another woman possibly named Inez. "Illicit Affairs" describes the emotional effect this had on that woman. Betty finds out in the song "Cardigan", which captures her feelings of worthlessness, followed by "Betty", which consists of James's attempt to apologize. "Exile" represents Betty and James's break up, and "The One" is about Betty knowing she has to move on from James.
The focus then shifts to James once more in "This is Me Trying," when he tries again to make amends with Betty. Then in "Peace" he decides it is better for them both if he leaves town and joins the military. "Epiphany" encapsulates a scene of James dying in combat, and "My Tears Ricochet" is about Betty at James's funeral. "Mad Woman" and "Hoax" both describe Betty as she suffers the effects of his death and their unresolved tensions. Both "Seven" and "Invisible Strings," are about Swift and her growing up. "Invisible Strings" is more focused on Swift's own relationships and hints at similarities to James and Betty's.
Finally, "The Last Great American Dynasty" takes place after Swift bought Betty's house in Rhode Island many years later and is an overall recap of Betty's life. While this is just a theory, the lyrics seem to fit all too well. Many are convinced that this song is based off of Rebekah Harkness, more commonly referred to as Betty, the previous owner of Swift's Rhode Island home. Speculations about who exactly this song is about will continue to circle until Swift clears things up, which may be eternity, as Swift has a history of allowing mystery to leave room for the imagination.
While not everyone can agree on the specific meanings behind the songs, we all can agree that Folklore was not misplaced at the top of the charts and that Swift's voice and lyrics perfectly portray a story of grief, anguish and heartbreak.