The Line: Saudi Arabia begins construction on 'smart city'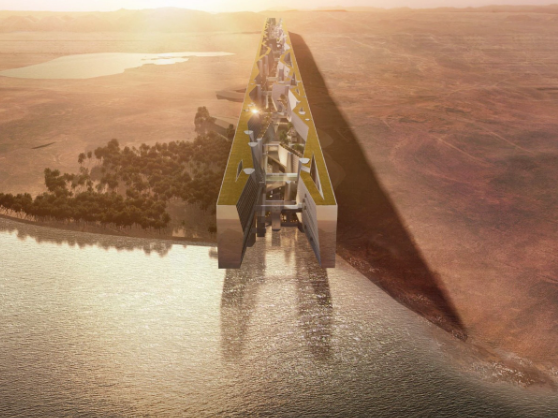 Meet The Line: Saudi Arabia's new project in Neom, which aims to create a futuristic smart city that could change urban living as we know it. This city will consist of two parallel towers, each 656 feet wide and 1,640 feet high, spanning a length of around 105 miles, with the entire thing housed inside mirror glass walls.
Back in 2021, the plans for this city were revealed by the government of Saudi Arabia. Now, thanks to recent drone footage that was captured by Saudi Arabian aerial photography company OT Sky, we know that The Line has officially begun construction. This future city could be home to around 9 million people, which makes this new development all the more exciting.
Just as the outside of the city is proposed to be a magnificent feat of architecture, the inside of The Line will be just as incredible. For starters, stacks of apartments, schools and other necessities will make everything accessible within a short walk. However, this is far from the only thing that makes it so special. With the help of a high-speed rail, residents can travel from one end of the line all 150 miles to the other in around 20 minutes, meaning there would be no need for cars inside The Line. The city has also proposed to include year-around climate control, quick access to nature and the ability to maintain zero carbon emissions.
Saying that The Line is an ambitious project would be an understatement.
Though it may sound like a futuristic utopia, The Line may not be all it is cracked up to be. For starters, there is always the possibility that, like many other massive projects, The Line may be started but, due to a lack of funds, never completed. Along with this, there are some people that argue the security and smart technology proposed to run the city, such as facial recognition, will be an invasion of privacy and a danger to citizens. To top it all off, the land that Neom is being built on has been home to the Huwaitat tribe for generations. Now, thousands of people are facing possible eviction.
At this point in time, it is impossible to say what The Line will become in the future. However, thanks to the previously mentioned aerial photography company, we do have some insight into what is happening in Neom right now. Neom is a new megacity project located in the Tabuk province in northwestern Saudi Arabia. This drone footage shows construction vehicles working to dig a long trench in the desert. Other shots show workers monitoring the process, and vehicles arriving at the scene.
It is important to add that The Line is one of the few future developments in Neom. Other projects include a ski resort and housing for government officials.
Neom and The Line are two projects that will be interesting to follow in the coming years.