StandUp and Kindness Club celebrate international Pay It Forward Day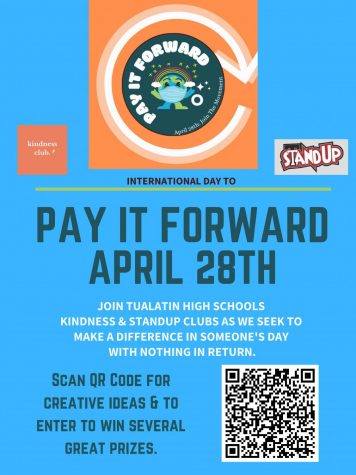 Pay It Forward Day is a global celebration recognized every year on Apr. 28. Inspired by author Catherine Ryan Hyde's Pay It Forward movement, Blake Beattie — an internationally acclaimed management consultant, speaker and author — founded the occasion in 2007 to encourage individuals around the world to stand for kindness.
To this date, Pay It Forward Day has inspired over five million acts of kindness in 80 countries with over 60 state and city proclamations.
This year, in observance of the special day, students in Tualatin High School's StandUp and Kindness clubs teamed up to launch Pay It Forward Day activities in promotion of kind actions for the greater good.
"I was so happy to find out that there was a national day!" 2021-22 Kindness Club co-president Amanda Jiricek said. "We should be doing our best to be kind and pay it forward every day, but having a designated day makes it really fun to celebrate. Plus, it's a nice reminder of how good it feels to make people happy, randomly. Sometimes the best moments are the ones you least expect."
The student leaders are also collaborating with local family-owned businesses in Tualatin to put up interactive, QR code flyers around the community in order to spread awareness of the international day. They hope that the engaging project can inspire citizens to adopt a "pay-it-forward" mentality and do something nice for someone else — whether that be their family, friends or a total stranger.
In addition, StandUp and Kindness clubs believe that this community-involved activity can help businesses in the area that have been struggling as a result of the pandemic gain a shoutout and additional customers. As a little extra incentive, the clubs are hosting a drawing with some small prizes. With one digital scan of the poster, people who pledge to participate in the spirit of Pay It Forward Day can be entered into a giveaway sponsored by local businesses.
"As a club, StandUp works to support our community in making healthy choices," StandUp social media coordinator Sarah Shepherd said, "…specifically working to keep teens away from drug and alcohol use. We came up with the idea to host the Pay It Forward event in our community in a discussion as to how we could have a positive influence in Tualatin. We are working on some long-term projects, but we wanted to do something that would have a more immediate effect. Our advisor mentioned that this international holiday was coming up, so we decided to run with the idea!"
StandUp originally approached Kindness Club with this project as they believed that the idea behind Pay It Forward Day matched well with the club's values.
"Our club encourages kindness and also seeks to improve our school's community," Kindness Club co-founder Janelle Bingham said. "For Random Acts of Kindness (RAK) Week last year, [Kindness Club] orchestrated the sticky note wall across from the counseling office. People could write and leave a sticky note with encouraging words, or take one off the wall as a reminder. This year … our officer team organized a RAK challenge with various acts of kindness for people to do. … This [current, Pay It Forward Day collaboration] is [also] targeted towards the same goal!"
As the struggle in the fight against our invisible-yet-deadly enemy, the coronavirus, continues, Pay it Forward Day, which exists to make a difference by creating a worldwide ripple of kindness, serves as a much-needed reminder of our shared humanity. The international holiday demonstrates that when we work together and open our hearts, we are capable of great things. After all, as they say, in unity there is strength.