Where Tualatin goes post-pandemic: Dellerba reflects on past, present and future of education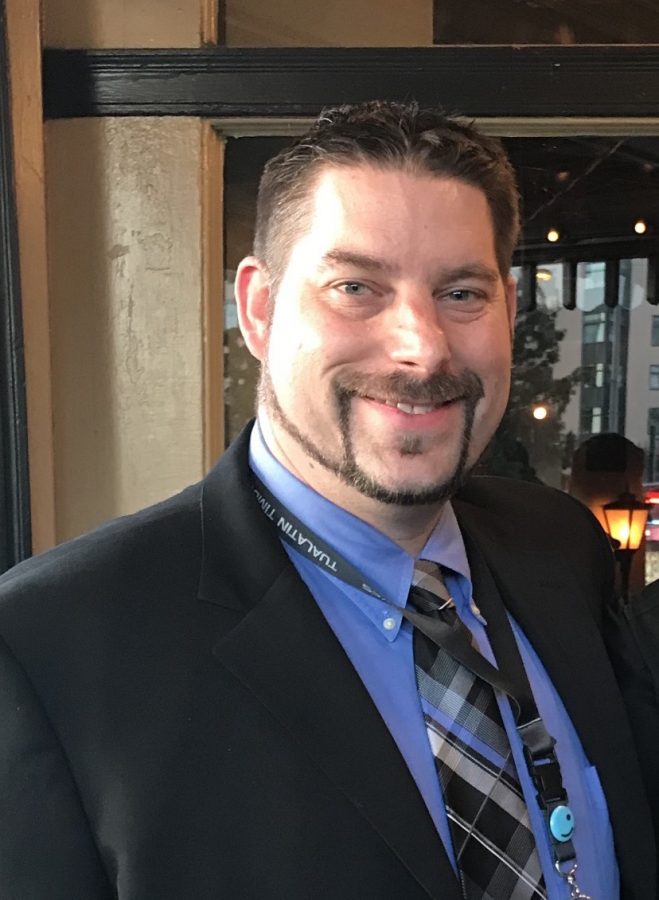 After five years at Tualatin, four years as principal, three school years affected by COVID-19 and three new assistant principals, I knew I had to find out what Michael Dellerba was thinking about all of this. In a 40-minute interview Dellerba looked back at the year of comprehensive distance learning and its impact on staff, the changes we need to make in education and how he thinks we can get there.
Prior to the interview, Dellerba provided me the link to Tualatin High School's 2020-2021 Continuous Improvement Plan (CIP), a yearly chart that details the vision for the school, breaking each of the school's "aims" down into "primary and secondary drivers" and "change initiatives." The administration is currently working on the CIP for the 2021-2022 school year.
TRAN: Can you talk me through the Continuous Improvement Plan?
DELLERBA: Starting off last year, we spent the whole summer designing from what we learned in the spring. We had done some surveying from students at the end of first year. We talked to a lot of teachers about Google Classroom. Then we put together, between Tigard and Tualatin, a building team of teachers. [There were] some teachers from Tigard and some teachers from Tualatin. It was a lot of the same teachers that we went off with and just tried to look at what student experience was, what were our outcomes data like, who didn't use the system, who wasn't engaging and how can we build some things for [the students who weren't engaging] to start the next school year.
During the summer [of 2020], we explored a bunch of learning platforms because a lot of parent feedback was Google Classroom was too much to manage. It's not a real visible, great platform for students to work from and for families to see, so that's why we moved to Canvas. [Moving to Canvas] was crazy–the amount of time teachers had to [prepare] for that. In Sherwood, for example, they rolled out Canvas over four years. They trained teachers for over four years. We had two weeks. It was a lot of teachers having to roll up their sleeves, figure stuff out, working as teams; our instructional coaches getting ahead learning, teaching [other teachers], creating videos. We'll stay with Canvas for the long term. That's what a lot of colleges use. It's a lot stronger platform than Google Classroom. What my concerns were in that decision – and we had talked about this with the district – is that it puts a lot of strain on teachers and so are they going to move away from engagement because they're too worried about their Canvas. But people rolled with it.
Our goal in setting up last year, and why we went with four classes, is because students told us seven is too many to manage online. At the end of the [2019-2020] school year, our plan was to build the best comprehensive distance learning (CDL) model with elements ready [so] that if we get the chance to go to hybrid, we'll get a chance to go to hybrid. We all really felt like if that was going to happen, it was going to happen late in the year, so let's make it a strong online comprehensive model as much as we could. I think our data was pretty good in that. We had some disengagement, we definitely had to get technology off to people, we had to get hotspots to people, we had to try to engage students who weren't checking in with teachers. For what it was, and for the time that we had to prepare for it, I don't think it could have gone any better.
TRAN: One of the things that I wanted to ask you about was the stress CDL had on teachers. Personally, I did hear from my classes about how much stress the teachers had from the technical education from Canvas. I also saw on your [Continuous Improvement Plan] that staff circles are one of the things you're trying. When ASB (Associated Student Body) was at the school, I saw you guys doing some kind of bonding activities.
DELLERBA: We're three years in deep now to staff circles being a part of our staff culture. What I love about staff circles is they're really driven by staff. I don't sit in those meetings. The facilitators get together. We pay them a really small stipend; it's not very much for the amount of work that they do. They create the prompts. It's really a time for teachers to be open with what they're working on, processing, and feeling. The facilitators bring back the critical feedback to our admin team and if we need to make pivots based on the stuff they're telling us. That's what that vehicle serves as.
I think what the staff are feeling now is the loss of Wednesdays. I think students are feeling the loss of Wednesdays. You know, it was in The Wolf. The students were talking about that loss, that day of catching up, that day of doing some asynchronous work. If you look online, Edutopia, and on Twitter where some people have posted about education, they say go back to some asynchronous thinking one day a week. I'm hopeful that education in general will be ready for that pivot. I think we need some permission from the state of Oregon. There's a lot of restrictions on instructional minutes. I'm hopeful that as our district heads into negotiations with our labor union, which is the TTEA [Tigard Tualatin Educators Association] , that they're going to voice that they want some of that collaboration time back. When you look at the research on how people are pivoting now to – what did we learn in the pandemic: we learn that there's too much on their plates, there's too much on teachers' plates, which is back to the original question. There's too much on students' plates. How do we narrow some of that down to something that is meaningful and then embed some of the things we've learned. The strongest [Social Emotional Learning] (SEL) curriculum doesn't happen during Pack Time. The strongest SEL curriculum would be embedded into all courses. But you have to work into that.
I think people are seeing more and more of that value and so they're spending time building that. When you do that, you only have 'X' number of minutes in the class. Something has to come off the table. I think those decisions are being made by teachers. It's stressful. I mean, teachers are tired. They have pivoted so many times, they've stayed the course, they've put extra time in, they've been up late. It's been a tough time to be a teacher.
*(This interview was conducted on Nov. 8, 2021. On Monday, Nov. 29, 2021, Tigard-Tualatin School District rolled out a new schedule reinstating a 15-minute passing period after the first period. Periods are now 87 minutes rather than the prior 90 minutes.)
TRAN: What kind of resources, then, is your staff missing? Is it time to prepare for their classes, and to grade, or is it the money? I know there's a staffing shortage with teachers going on right now. What do you need?
DELLERBA: I need a couple of things. I need more people to go into teaching, especially in math and science. I think people need time to collaborate in meaningful ways. In order to make school meaningful for students, they need time to process, they need time with each other, they need time to collaborate, and they need time to innovate. It's tough to do when they don't have the time. That was the beautiful thing about Wednesdays. I think that was the beautiful thing about people being able to pivot in the middle of the week, or design stuff and have time to meet with their team. That was a key factor. It's always been a key factor in education. I think finding some creative ways to create that time has been what educators do. A lot of times it happens off the clock. They're connected to a virtual meeting at 6 o' clock at night when they should be with their families. We're trying to back away from the way to get innovative is that you have to spend more of your own time. I think we have to be more creative about how we structure our time.
The tricky part of that is time – a lot of it is bound to contract. When we labor negotiate [pulls out binder with labor contract], there's all this language on how time is to be used. I think that's where the conversation has to come next. That teacher voice has to elevate to the union level and they have to have conversations with district leadership on what time looks like in high school schedules or middle school schedules or whatever.
TRAN: On the student side, you say the state of Oregon needs to make some changes on instructional time. Doesn't Oregon have lower [instructional] hours compared to other states?

DELLERBA: I can't remember at the top of my head. I think it's based on an older model, though. I think it's based on this industrial model of education where seat time is the measurement for learning. I don't think [the industrial model of education] is true, yet that is still the measure. That is still the measurement [Oregon Department of Education] (ODE) uses. I wish they would be a little more creative. Maybe they will be. I'm not sure what that conversation would look like at the ODE level, but seat time can't be the measurement alone. There's a lot of other ways to demonstrate learning and I think people have been doing that work for more than a decade. My hope is that we see a pivot in how [ODE] structures [learning measurements], which would let us be a lot more creative with some of the things we want to do. There's some really good ideas floating around our staff right now, innovative-wise, but those instructional hours are a huge barrier.
TRAN: There are no serious discussions regarding those barriers that you're aware of?
DELLERBA: There's lots of those conversations, but we're bound to those algorithms. Right now we're drafting some schedule changes, because students have really voiced, and teachers have really voiced a loss in the breaks and five-minute passing time not being enough time. We've gone back to the district and said, 'Okay, we've made a proposal for a schedule change for the quarter, and now they're doing the algorithm to make sure they're doing the instructional minutes. When the contracts come in, as soon as I go below the 90-minute period, I have to go to the TTEA for a memorandum of understanding because it's in the contract. Anytime there's a change in the high school schedule, it has to go through a union vote. One of the articles in the union vote says that blocks won't be reduced from 90 minutes. Well, in order for us to go more than a five-minute passing time and into a break, we have to cut into those 90 minutes. We've got polls off there, and I think the union is going to agree with it, but it's a matter of will we meet the instructional minutes requirements that the state requires. It's these multiple layers of policy that influence even a little change like that.
TRAN: Do you think a lack of action on the state level is causing [admins] to do more work on the local level?
DELLERBA: I don't know if I would call it lack of action. I think it's more like a disconnect of thinking. I also will tell you that I can't imagine a time in my educational career of 22 years where I've had more state oversight. I mean this is [he pulls out one of several binder for Ready Schools, Safe Learners] just the most recent documents that I've had to print out for Safe Schools and all the requirements over the place. I've never felt [state oversight] more as an educator than during COVID because of all the procedural things. I don't think it's a matter of lack of action. I think it's probably a matter of advocacy. Because all of the policy makers at the state level have been focused on Ready Schools and putting all the requirements, and I think they've done some really great things, like not holding people to harm for grades – like taking Fs off the table. But because the focus is not beyond safe schools, I think they've lost some momentum in other areas. I don't think it's because they don't have a desire to do so. I think the conversation has been driven elsewhere with policymakers because [COVID] is the bigger concern. But I'm hopeful to see a shift.
That's more of a conversation for Dr. Sue than me.
TRAN: Why did you get into teaching?
DELLERBA: That's a good question. Both of my parents were teachers. My mom was an elementary school teacher; my dad was a high school English teacher. My dad's dad was a high school teacher. I just grew up around schools. If I wasn't hanging out at my mom's elementary school while she was teaching summer school, I was hanging around my dad when he was teaching and coaching from the time I was three and up.
You know, I looked at other avenues. I thought about journalism. I was a writer for my high school newspaper and editor for my college newspaper. We had a staff of seven people and we put out a weekly paper, printed. That was back before everything was done digitally. We were designing everything on Quark, which was the program we used then. We'd have to take the hard disk down to Corvallis from Western [Oregon University] because you couldn't send files that big over email yet. We'd wait for them to print it out, go to a coffee shop in Corvallis where they were printing, run it back and distribute it at 6 o' clock in the morning around campus. From writing to production to delivery of the paper, it was a really meaningful experience for me.
I interviewed with ESPN magazine when I was a senior. There were 10,000 applicants – I found out – I got to fly to Chicago for the interview, had the interview there, didn't get the job and I was kind of disappointed. In my follow up with the interviewer, they said, 'We really liked your writing, we enjoyed your background in athletics, but you're competing against people who majored in sports journalism from Syracuse [University].' You know, it was a $30,000 copywriting job, it was the lowest level in the ladder. I just realized, 'Wow, that's a really competitive industry,' and I had other interests.
I was thinking about law school, I had taken the LSATs and was looking at applying to law school. My last semester as an undergraduate, senior year, I took a course on American Jurisprudence, and the professor was the former District Attorney. It was a really interesting course and we were looking at cases, making difficult arguments, and really getting into the heart of why people are passionate about law. In the last week of the course, [the professor] basically all talked us out of doing it. It was like, 'You're gonna have to represent drunk drivers and abusers'. It was just an eye-opening reality for me that [I thought], 'Maybe I want to do something meaningful."
I worked for the Forest Service right after I graduated. I was an assistant district archaeologist in the Willamette National Forest – my minor was Archaeology. That was an eye-opening job. I got to work out in the forest, make maps, take reports out to tourists who reported seeing artifacts and go take a transit out and backpack. But I really missed interactions, and I had always coached youth as an athlete growing up in high school and college. That's why I got involved in education, and decided I don't want to be stuck in the system somewhere.
I became a social studies teacher. I was a social studies teacher for 14 years at Westview. I started at Marshall [High School] in Portland, which doesn't even exist anymore, then I stayed at Westview for a long time. I loved what I did. I really miss teaching a lot of days. But I really grew tired of hearing students having poor experiences in other classes. I worked really hard to make my classes as fun and relevant as I could. That's why I moved into leadership and that's how I ended up here. The core of me still loves being in the classroom and watching students have those light bulb moments where they fall in love with something.
TRAN: Tualatin was not your first leadership experience, though, right?

DELLERBA: No, I was a Dean of Students at Oregon City High School for a year. Then I spent two years as assistant principal at Gardner Middle School in Oregon City, and really learned how to work with students. Middle school is tough, it's an emotional time; I learned how to support kids from some really tough neighborhoods. I live pretty close to here, and I wanted to get back into high school. When this job opened up as an assistant principal, I jumped on it.
TRAN: You were an assistant principal?
DELLERBA: For one year, yeah.
TRAN: Do you know when?

DELLERBA: It was probably…You're a senior right?
TRAN: Yes.
DELLERBA: It was your eighth grade year (2017-2018 school year) that I was an assistant principal. Your freshman year was my first year as principal.
TRAN: What was your title?
DELLERBA: Here, I was assistant principal for discipline – I started [Leadership, Integrity for the Future, Today, and Tomorrow] (LIFTT). When I became principal, we reshifted those, we split discipline among all the assistant principals. We shifted a lot of the inventories you see here to different people with the idea that we needed to collaborate more as a team.
This is my fifth year here as a building-level administrator.
TRAN: What are you most proud of?

DELLERBA: At Tualatin?

TRAN: Yeah.
DELLERBA: I am most proud of how people handled this craziness – the fact that people held it together for the kids, and for each other, during the most challenging time in education in the history of our country. It gives me goosebumps just thinking about how much people had to sacrifice, how much kids had to sacrifice to make that happen. I'm so proud of how our staff handled that and how they continue to handle it as it changes. It's three whole school years that have been impacted by this pandemic. Not just how they come to school, but how they live their lives, and the care that they have for their kids, how they care for each other, it makes me immensely proud to be here. I think, for the rest of my career, that'll be what I'm most proud of. And, that they continue to take on tough problems. We continue to put tough problems in front of them, and our staff take it on, and they own it, and they shift things that have traditionally been hard to shift in education. When you look at our driver diagram, they aren't just unique to Tualatin, but they're unique to educational environments, and the complexities of shifting something that was built on an idea in the 1890s in the factory model, to something that is more personalized and relational for students, is just a huge transformation to undo. It's 200 years the way that it's built. Our staff continue to do that every day. It's really humbling to see them do that.
TRAN: It's like what you were talking about with the legislature. On one hand, you're dealing with the pandemic, and on the other hand, there's the 1880s factory model.
DELLERBA: That's why I got into leadership. You're talking about systems that can be deconstructed. Especially if we're talking about race, we're talking about bias, and if we're talking about hate in schools – those are things that are social constructions. If they are social constructions, they can also be socially deconstructed. That is difficult transformational work for individual people and for groups of people. People recognize that not all students get to experience Tualatin High School in the same way. Those experiences have to be understood, they have to be heard in order to shift the systems that have been in the schools and built in the way that have kept them in education. I think people are committed to that work over time. That's one of the reasons I came to this district, is because of their commitment to it. I was looking for a district where action meets where the policy is, and I feel that way about this district.
When you get into conversations that overarching belief or value – and you know this, you've been in board meetings – that carries throughout the conversations. Now, big organizations are slow to move sometimes. But I think that's at the core of every conversation. The other places that I've been in, you don't always feel that so you see decisions that are made butt up against that value. I feel that less here than anywhere I've been, and I've been in three large districts in Oregon.
TRAN: Is it just the organization itself, or are we motivated by the community? Do we butt heads with the community?

DELLERBA: When I say organization, I mean that everyone is a stakeholder. Our community is a part of our organization. An organization is a group of people. I don't see it as a bureaucratic structure. Our organization is everyone who experiences our school. I think, as we have moved towards embedding that community and student voice into our changes and ideas, I think we're owning more of that darker side of Tualatin High School. We've illuminated it a lot. It's certainly caused some tension with the community at times, for me. I think it's still the right conversation, and that's why I haven't been afraid to have those conversations. If I can get into a conversation with someone and dig into the 'why', I can usually get to some common understanding. But in the world of social media, there are a lot of people who decide to take their opinions about something and state it as fact. That certainly has happened to some of the decisions that we've made, but that doesn't change the core of why we make it. We make our decisions from a strong strategic position to try to build the foundations of schools so all students can experience Tualatin in a positive way. When we make decisions that are aligned to that, you might take a little bit of heat.
TRAN: You can't sit with everyone that you want to change minds. We're just now engaging the EASH (Education, Accountability, Solutions, Healing: a framework of restorative justice in bias incidents) work, which is supposed to be systems-level change.
DELLERBA: Yep. We're just starting this work. We're a little bit behind Tigard. We sat down with them last week to listen to how they rolled this conversation out at Tigard. I think we have a lot of the same elements in place, but we want to sit down with our students. That's an upcoming Student Voice Council agenda. I really want to spend some time talking about the roll out of how we are going to interrupt hate speech here at the student level. What do students want to put together – that's what I call 'tier 1 support,' something that goes out to all students. There's been talk in [Black Student Union] about bringing Unity Day back. I want to have some of those conversations with our leaders and see what it is that students want to bring forward along with what we've interrupted at the classroom level. We've had a couple of hate incidents here in the last couple of weeks. We've had to go into those classrooms and hold those restorative justice lessons and do some of that work. But we have that tier 1 level work to do across our whole building with students and staff. That's what I'm excited about with our EASH plan. We're going to have a couple of topics with our staff and [professional development] about interrupting hate speech. We want to anchor it in the student voice, from experiences here, and we want to do it in a way that doesn't cause harm to students.
I'm excited about that work. It's been a long time coming. We've definitely done it at the response level, but it's time to take it to the tier 1 level. That's why when we came in, we introduced the Tualatin W.A.Y. ('We care, All of you matter, You are the Future') as an idea. Some people call it a slogan, but it's an idea that has to be built out still. We want everyone to feel like they have a place here. We want everyone to know that they're cared for, that they have a future moving forward. We want people to feel hopeful about their education when they get to experience the school, and not [be] forced into a box. But that takes a long time to build up, people have to take their own ideas that connect to it and part of that work will definitely have to do with interrupting hate speech here.
TRAN: One last question, the kids in Newspaper want to know how you came up with the 'Oh Yeah' joke.DELLERBA: So that comes from summer camp. I was a summer camp counselor at Camp Winadu, which is in Pittsfield, Massachusetts. It was an 8-week sleepaway camp, and every Friday they had something called Campership. They had a round where, basically, counselors would come around and make fun of each other. It was always that same format, 'I've got this feeling,' and the whole camp would say, 'Oh Yea.' Then you come up with a rhyme. Kids have always responded to it. I wish people would take more ownership of it and do it for themselves, that maybe two students would come up and do one. I tried to get Blake Jackson to do one with me before COVID. He got up and did one. It's fun, that's where that idea comes from.