Dance team wins state championship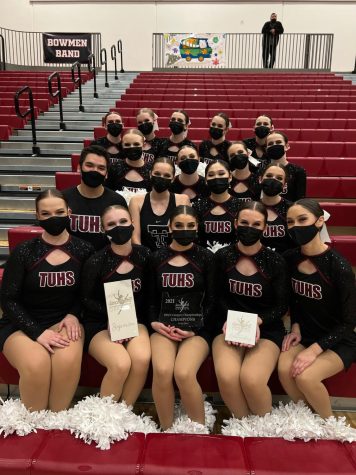 While the Tualatin High School dance team had a great season overall, the highlight was winning state on Dec. 4, 2021 at the competition at Sherwood High School. The dance team competed in the Category Championship and won state with their jazz routine, a serious and hard-hitting routine that they worked very hard on.
"Being the number one in state for our jazz routine means the absolute world to me," senior Malia Holland said. "As a senior, finishing off my final year with such a huge title makes me really think about all of the hours that I have put into this team for the past four years. Dance also means a lot to me personally, so getting this award is also very fulfilling, and I feel so proud of not just myself but my teammates. We all have worked so incredibly hard that most people don't recognize."
The team not only won the category with their jazz routine, but they also got a superior score. The dancers have put in a lot of hard work during their fall season, and they depend a lot on their coaches to make sure that they are focused, prepared and performing at their best.
"The team dynamic this year is so welcoming and fun," Holland said. "We have an amazing team this year with so many talented dancers. It is also nice because we all can rely on each other to be there for one another. Practices are also so much fun because we all just have a good time."
The seniors also had a fun time this season with their novelty routine, where they were actually able to choreograph the routine how they wanted to.
"Novelty is a personal favorite of mine because it can be about anything you want! This year our novelty routine was inspired from Mario Kart and the seniors got to choreograph everything. It is always so much fun!" Holland said.