Club Spotlight: the Black Student Union (BSU)
Black Student Union is more than just a school club; its members arrange events, spread awareness and improve the school's overall environment.
Priscilla Villanueva, a sophomore at TuHS and the secretary of the B.S.U., explained how the club goes on field trips to the elementary schools for the 'lunchmate program.' Her job is to take notes every club meeting and to send out information for all club members.
"Basically," she explained, "we mentor kids, set good examples, and make sure the school's students learn about diversity."
Kennedy Garrett, a senior who is president of the club, emphasized the community the club creates. Specifically, she mentioned the events that connect the other Black Student Unions at the high school and middle school levels.
Additionally, the vice president helps organize club events and field trips, as well as write the announcements. The B.S.U.'s Vice President, junior Amerrah Horne-Vaden, elaborated upon the club's goal,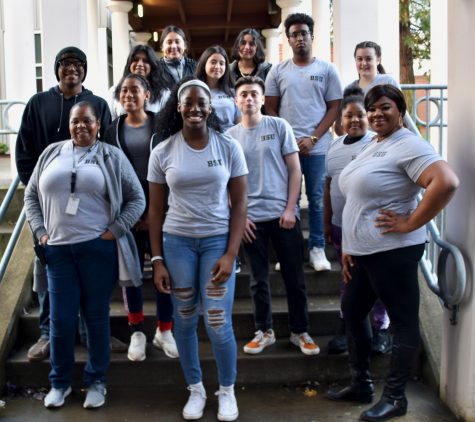 "[We] stand together and promote peace and unity amongst all students".
However, the club has faced its fair share of adversity. February is Black History Month, and to celebrate the month, the B.S.U. hung up posters around Tualatin High. Later, the club members discovered that their posters and been taken down and ripped. Villanueva was not discouraged in the slightest by their set-back. This year, a spirit week will be held at the end of the month to honor Black History Month. Each day of the week will have a different theme, and the club officers are hoping as many students as possible participate. Eventually, the B.S.U. would like to have a school dance, but that event is still in the works.
The Black Student Union offers support to its members as they grow closer throughout the year, and the officers emphasized that anyone can join the Black Student Union. There is a common misconception that the club is only meant for African-American students, but there is no such criteria. Horne-Vaden says "everybody and anybody" can apply to join the Black Student Union.
Clubs like the B.S.U. are important to provide adequate representation for students at Tualatin High School. Students are supported as members of the B.S.U., and they can also offer support to their peers.
"We just come together and we just find different ways to bring awareness of all racial cultures in the school," Garrett pointed out.
Participation is not limited to black students, or just students of color; all students are encouraged to join.