Portland Public Schools Cancel SRO Program
Police will no longer be present in Portland Public Schools following an announcement by Superintendent Guadalupe Guerrero on June 4. This announcement comes amid the nationwide George Floyd protests highlighting police brutality against black people.
The protests originated in Minneapolis, where the city's own school district has also cut ties with its police department.
For many students within PPS, the presence of the police has long been a problem. In fact, the George Floyd protests were the tipping point of a months-long conversation that started in December 2018. That was the first time the Portland Police asked the district to foot the bill for the officers' presence, for a total of $1.2 million. At first, the board members approved the contract, citing fears of losing the officers after Dec. 31, but the decision was reversed weeks later when students and parents protested.
Then, in May 2019, Mayor Ted Wheeler agreed to set aside $1.6 million to provide school resource officers for the city's three school districts – PPS, Parkrose and David Douglas. This meant that officers would still be in place, but their presence came out of the city's budget instead of the districts'.
Now, Wheeler has finally agreed to defund the school resource officers altogether. $1 million of the money previously spent on SROs will be transferred to a community group focused on making education better for black students and students of color, Wheeler said in a live-streamed press conference.
"What we are hearing loudly and clearly from the community is that they do not want this direct, physical, ongoing presence in the schools," Wheeler said.
He noted that Portland Police and school districts will work to ensure officers will still reach schools efficiently in emergencies.
Asked about the possibility of a similar situation for TTSD, sophomore Hannah Figueroa said, "I feel like if we were to get rid of SROs, which is a viable option, we would need educators and teachers to step in and be more proactive. There are students who report bullying and sexual harassment and nothing really gets done until they bring up the issue to SROs since they're legally obligated to intervene. Even then, though, [SROs] don't always help or they don't take as much action as needed. I definitely think getting rid of SROs would work if [administrators] took students more seriously. The way things are right now, [if officers were removed], I wouldn't trust school counselors or the principal to actually take action if I felt threatened by somebody at the school."
Contrastingly, sophomore Athena Larsen responded, "I understand their original intent was to make schools safer. But they don't even do that nor (in my experience) do they make kids feel any safer. Honestly, if there was any trouble, I would sooner go to Flo or a teacher than an SRO."
Tigard-Tualatin School District has started talking about the district's own school resource officers with some student groups, though there has been no discussion publicly.
About the Writer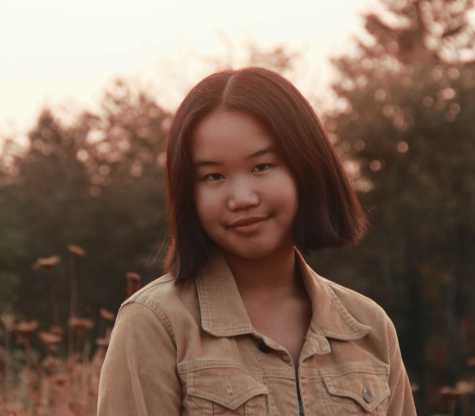 Emily Phuong Tran, Feature Editor
Hi everyone! I'm Emily Phuong [Foo-ong] Tran. I go by she/her. I'm a junior at Tualatin, as well as the feature editor for The Wolf. My decision to...