PlayStation gives gamers the event they've been wanting
Sony held an event dedicated to the PlayStation 5 on Sept.16. During the much-anticipated event that mainly consisted of trailers and gameplay for upcoming PS5 games, they also answered a long-awaited question: What would the price of the PS5 be?
The price of the PS5 has been a topic of controversy among the gaming community since the console's announcement. Sony stated multiple times that they were concerned with achieving a price point below $499 due to hardware expenses. They also said that they would be releasing two different models, one with a disc slot and one completely digital model, both priced differently.
"We must keep PlayStation 5's bill of materials under our control, and we need to make the correct number of units in the initial production," Sony's Chief Financial Officer Hiroki Totoki said at an earnings briefing earlier in the year.
During the event, Sony came through and released prices for both models with the fully digital model being priced at $399 and the model with the disc slot being priced at $499.
Also during the event, Sony showcased long-awaited titles such as Spider-Man: Miles Morales, Call of Duty: Cold War, Hogwarts Legacy and Final Fantasy XVI.
For Spider-Man: Miles Morales, Sony released a full-length gameplay trailer which showcased Miles going into battle against The Tinkerer's forces. The trailer gave insight into how Insomniac Studios had incorporated Miles' electric and invisible abilities into the combat. From what we were shown, it seems like players will be able to shift seamlessly between abilities.
Sony also showed a gameplay trailer for Call of Duty: Cold War. In the trailer you can infiltrate an enemy encampment and assassinate your target. This was followed by an extremely cinematic car chase which ends with an enormous plane crashing via an exploding RC car, which you pilot under the belly of the plane.
All in all, the event was extremely informative and gave many people exactly what they wanted.
Here is a full list of all the games showcased during the event:
Spider-Man: Miles Morales
Devil May Cry 5 remastered
Demon Souls Remake

God of War 5
You can watch the full event here.
About the Writer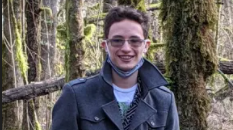 Ethan Glick, Staff Writer



Hello, my name is Ethan Glick. I am a sophomore, and my pronouns are he/him. I am a staff writer as it is my first year on the staff. I joined...