Movie theaters, concerts reimagined in global pandemic
2020 has been eventful to say the least, but a much-needed dose of positivity and hope was provided by the entertainment industry. From new albums to new streaming platforms, there was something for everyone to enjoy. Let's take a look at some highlights from the year.
Jan. 26: 62nd Grammy Awards
This year, teenage singer-songwriter Billie Eilish cleaned up at Music's Biggest Night, winning five categories including the Big Four: Album of the Year, Song of the Year, Record of the Year and Best New Artist. In doing so, Eilish redefined the music industry with her melancholy twist on modern pop quickly catching on.
Feb. 9: 92nd Oscar Awards
Korean film Parasite took home four Oscars and made history as the first international film to win Best Picture. This was a breakthrough in the film industry as it paved the way for international movies to receive global recognition and brought hope for more diversity in the industry.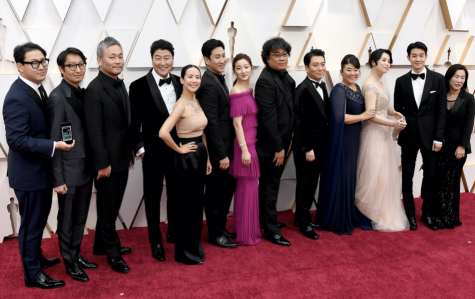 In response to the death of Minneapolis resident George Floyd, African-American music marketers Jamila Thomas and Brianna Agyemang initiated a movement across the entertainment industry, known as Blackout Tuesday, to recognize the talents of African-American artists. The movement was one of a series of efforts to address systemic racism.
Jul. 15: NBC launched its own streaming service, Peacock, which provides access to millions of movies and TV shows
Jul. 24: Taylor Swift's Folklore released
Singer Taylor Swift drew major attention following the surprise release of her hit album, Folklore. Arguably one of Swift's most successful works thanks to Folklore debuting at #1 on the Billboard 200 charts, the album explores a more mature side of her personality and has defined a new era of pop with an indie rock sound which continued into Folklore's sister album released on Dec. 11, Evermore.
Aug. 21: BTS's "Dynamite" dominated charts
South Korean pop group BTS has made a name for themselves this past year as their hit song "Dynamite" made a soaring debut at #1 on the Billboard Hot 100 chart. In the process of making history as the first non-American act to do so, BTS has reshaped the music industry this year by allowing future international artists to receive recognition.
Aug. 28: Chadwick Boseman, star of Black Panther, passed away at 45

A young woman attends a Black Lives Matter protest on Blackout Tuesday. The movement was initiated by two African-American women in the music industry with the intention of promoting African-American music and movies. Photo courtesy of David Buchan/Shutterstock.

September: Among Us gained popularity
The video game Among Us gained lots of momentum over the summer, thanks to YouTubers and Twitch creators posting livestreams of the game. During a time when social gatherings were avoided, Among Us became a physically distant way of staying connected with friends and family during quarantine.
Oct. 26: Eddie Van Halen, member of the rock group Van Halen, passed away at 65
Nov. 8: Alex Trebek, legendary Jeopardy! host, passed away at 80
Nov. 24: 63rd Grammy Nominations
As quickly as the 2020 Grammys went, the 2021 Grammy Nominations came. This year, Taylor Swift, Beyonce and Dua Lipa have picked up the most nominations, proving that women in the entertainment industry can be as successful as men and reshaping female entertainers' place in the industry over the course of 2020.