Remembering Caroline Blackledge for her smile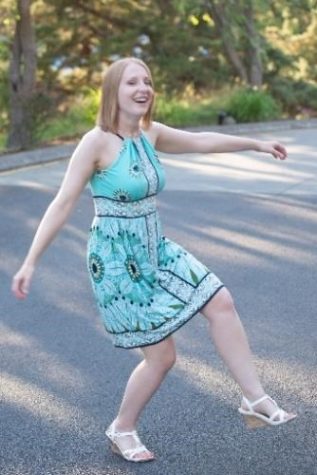 In this photo, Caroline Blackledge is smiling. With her arms open and balancing on one heel, her happiness seems genuine and unposed, carefree and in the moment. She smiles at someone else, maybe the photographer, or others outside the photo, but not the camera. She doesn't even seem to notice the camera.
Many Tualatin High School students know the person in the photo as Ms. Blackledge, their math teacher. She taught Algebra 1 through geometry and statistics for over 13 years at the Tigard-Tualatin School District, with two years at Tigard High School before transferring to Tualatin High School.

As an AVID (Advancement Via Individual Determination) advisor and member of the Equity Team, Blackledge truly believed in equity and her students' abilities.
"She always thought that everyone had the ability to learn math. She never gave up on anybody," her colleague and friend Merrie Ross said.
Blackledge was devoted, spending hours after school to work on math with her students and really getting to know them.
No ordinary math teacher, she always found creative ways to guide students through difficult concepts. Ross remembers the time Blackledge went to her classroom and pitched an idea for a statistics unit on March Madness. Students would have to pick different variables, like blocks or rebounds, to predict winners of each game.
The only problem, Ross laughed looking back, was that Blackledge didn't know much about basketball.
'"Okay, that could that be an issue, then,'" Ross joked at the time.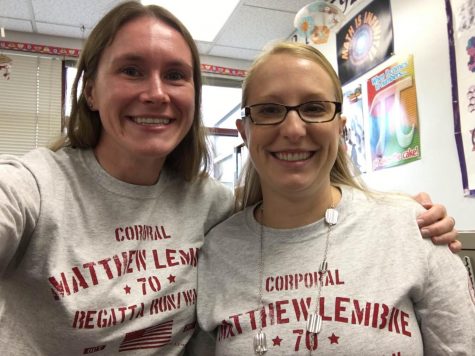 The pair talked through their basketball problem and developed lesson plans which have been used throughout the years. I asked Ross if the students ever got close to the results.
"No," she laughed again, but she remembers how exciting it was for her students to complete.
Moreover, she was impressed by her friend's idea.
"Even though basketball took her out of her comfort zone, she was trying to think of fun ways to encourage her students to get involved and to see math in a different way, which I always admired….I always thought that was pretty cool."

Ross and Blackledge started on the same teaching team, taught the same math levels and eventually became great friends. Along the way, they became a trio with Anne Muehleck, another math teacher at Tualatin High School.
For fun, the trio loved going on hikes. They would bring Blackledge's German Shepherd, Lola, along. Lola had been adopted by Blackledge as a little puppy and was deeply loved. "She loved Lola. She was her baby," Ross recalled.
The most memorable hike for the trio was when they summited Mt. St. Helens in the summer of 2017.
The idea, introduced by Ross, had been planned for nine months in advance to get the necessary passes. To prepare, they hiked smaller peaks like King Mountain and Elk Mountain, then tougher and tougher ones as they were closer to the date. Everyone woke up early and left Portland at 4 in the morning to have lunch by the time they got to the top. The view was beautiful. Although the trio trained extensively, the arduous hike still took a toll.
"I thought, 'I'm never standing up again,'" Muehleck said, "but we felt like rockstars afterward."
Cheerful and loving, Blackledge encourage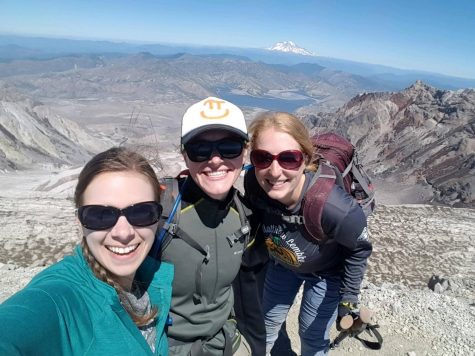 d her departmental colleagues to spend time outside the classroom by engaging in her own favorite activity: trivia. They always played as a team.
"One or two tournaments we'd end up [getting far enough] to go to downtown Portland. We never really got really far but we really didn't take it too seriously. We just took it as a time to be together," Ross said.
Blackledge then again spearheaded an at-home trivia night with other math teachers once the lockdown was in place. Twice, it was held over ZOOM. Knowledgeable because of her adoration of the show "Jeopardy," she kept all the scores and came up with all the questions for her colleagues. They were surprised at how thorough her research was and how creative the questions were.
More than just an ardent event planner, in school, Blackledge's colleagues saw her efforts to make the lives of her fellow teachers better. For the better part of a decade, Blackledge served various positions within the teachers' union, the Tigard-Tualatin Education Association. Scott Herron, union president, recalled her advocacy and her determination when it came to her causes.
"If she had an issue, she wouldn't let it go, whether I agreed with it or not. There were times I agreed with her and there were times I didn't think there were pathways to go with it. She kept hammering away on it. [She had] a resiliency in that regard until she got to the resolution she wanted or it just petered out. We're talking about not just a couple of days. We're talking four, five, six months later, she's still hammering away on it."
Like her persistence on union matters, Blackledge kept trying to teach even after her diagnosis of breast cancer. She taught for this school year, right up until December 2020. On Jan. 5, 2021, she peacefully passed away in her home at the age of 40, after a 19-month battle.
One thing people will miss is Caroline Blackledge's wonderful laughter.
"I loved hearing her laugh. You just couldn't help feeling happy," Muehleck said.
Ross tears up looking back.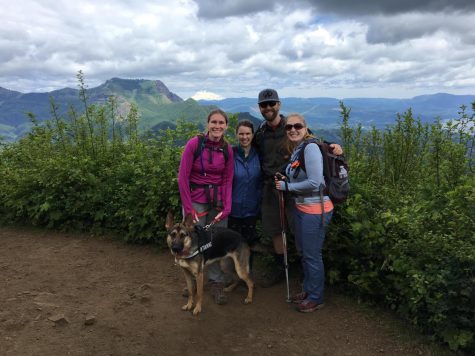 "She was always there to give you a hug when you needed it. Or a laugh. We would spend our lunches together and just talk about life."
Like in that photo, Blackledge disregarded the thing right in front of her. She pushed herself to teach for her students, especially coming back from treatment during the transition to distance learning. She planned events for her colleagues to connect with one another.
From the beginning until the end, Caroline Blackledge, with her joy and fun, looked away from the camera and brought happiness to others.
About the Writer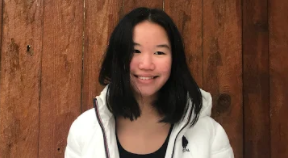 Emily Phuong Tran, Feature Editor



My name is Emily Phuong [foo-ong] Tran. I use the pronouns she/her/hers. Currently a junior at Tualatin High School, I am in the class of 2022. I...