Texas storm leaves millions without running water or power, leads to fatalities
An unprecedented winter storm slammed the state of Texas, creating uncertainty about access to clean water, power, heat and other necessities for 4 million people starting on Feb. 13. Extreme temperatures – as low as negative 2 degrees Fahrenheit in Dallas – caused major disruptions to power grids, resulting in frozen pipes in homes and businesses. President Joe Biden declared a state of emergency on Feb. 19.
Faucets ran dry as Texans also faced unsafe drinking water. Millions had to boil their water for it to be adequate for drinking. The death toll has reached 82 people as of press time, but some say exact numbers won't be available for a few months.
Texas is the only U.S. state to operate with its own power grid. It's run by the non-profit organization Electric Reliability Council of Texas (ERCOT), which "provides at least 90% of the state's electricity," according to The Indian Express. Being a massive energy consumer state, wind turbines and other power generators froze as a result of freezing weather and left millions without power for days instead of what was predicted to be up to 45 minutes.
High rates of carbon monoxide poisoning were reported due to attempts to ward off the cold in homes. About 450 carbon monoxide-related calls were made to the Texas Poison Center Network.
"State and local officials attribute most of the cases to the use of improper home heating sources, from devices like barbecue pits, charcoal grills and campfire stoves to practices like running portable generators and car engines indoors," NPR news stated.
Amid blackouts across the state, Texas Senator Ted Cruz flew to Cancun with his family, reportedly to escape the frigid conditions. He immediately received backlash for leaving his fellow Texans during a crisis, which made for a quick return that same week after regretting his initial decision. He said he started having "second thoughts" while travelling to Mexico.
"It was obviously a mistake, and in hindsight, I wouldn't have done it," Cruz said. "I was trying to be a good dad."
He also said he was in constant contact with state officials about the conditions of the Texas storm throughout his trip. Text messages were later revealed from his wife inviting more friends to join them on their vacation, revealing their plan to stay through Sunday. He later admitted that they planned to stay through the weekend, which undermined his initial claim about a shorter trip.
Residents expressed their anger over Cruz's decision outside with signs saying, "Fled Cruz," and demanded that he resign.
Among areas of major concern, hospitals faced difficulties providing for their patients. One facility, St. David's South Austin Medical Center, experienced failed heating systems due to low water pressure and resorted to the distribution of water bottles for patients and workers to wash their hands.
The hospital was working with the city of Austin to find immediate solutions to problems: transporting patients to other hospitals with available capacity, gathering water trucks to be sent over and securing portable toilets were just a couple of examples.
Despite the dire conditions in Texas, communities came together to help one another in search of basic necessities.
Grocery stores were filled with long lines out the doors as customers rushed to gather supplies for their families. One store stood out in particular. A local Texas chain called H-E-B and its owners, after losing power, began allowing customers to go home without paying for their groceries.
Customers were moved by the compassion that the store showed and paid forward the help that they received to those around them.
"Carts were getting stuck in the ice and snow. Groceries were tumbling out. But people started holding on to other people's bags," a Texas resident said in an interview with the Washington Post.
Volunteers and a line of 500 vehicles gathered outside the San Antonio Food Bank, hoping to distribute 100,000 pounds of food to struggling families on Feb. 19. Members of the Texas National Guard inspected produce and other foods for people to take.
About the Writer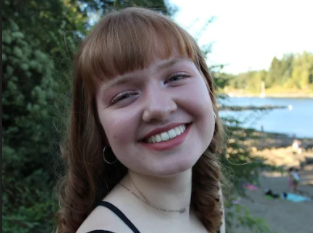 Shea Carlberg, Copy Editor








Hello! My name is Shea, I'm a senior and my pronouns are she/her. This is my third year as a staff member and I am the copy editor! ...