Skiers hit the slopes for another winter season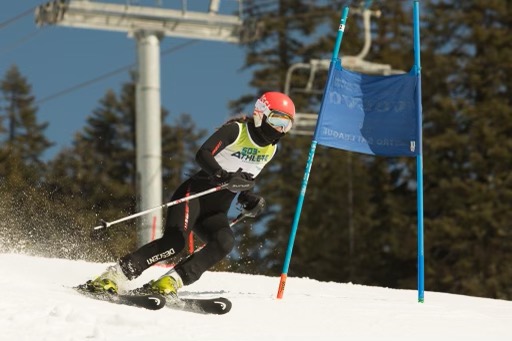 After having a condensed season last year due to the pandemic, the ski team has high hopes for a normal season and state cuts. Like previous years, the Tualatin team is combined with the Tigard and Newberg ski teams.
A normal week consists of dryland workouts throughout the week, practices at Mt. Hood Meadows on Fridays and competitions during the weekend. A practice on the slopes normally involves some warm up laps and attempting different course layouts for upcoming competitions.
The competitions are a very positive but competitive environment. One racer is normally skiing at a time, and the entire league is cheering them on as they wait for their turn to race.
"The practices are hard work but enjoyable. Everyone makes sure to give it their all and no one ever has a bad attitude," junior Theodosious Tzantarmas stated.
After skiing for 11 years, Tzantarmas decided to join the ski team so he could start racing at a competitive level.
"The competitions are fun but also the right amount of competition. Everyone there is really friendly. I'm looking forward to improving my skiing and ranking high in our races so that I can make it to state," he said.
Senior Cassia Tippett is also a veteran on the team.
"The dryland is challenging, but after you finish them, it's rewarding. You're getting stronger and sharper for your team," Tippett stated. "We wake up at 6 a.m. and head to the mountain after spending the night at the cabin. We first inspect the course to see how challenging it's going to be and spend the morning preparing ourselves mentally and physically for our races."
Senior Natalie Mathis has been skiing for nine years. She first decided to join the ski team her freshman year because she already loved skiing and spending time on the mountain with friends, so naturally the ski team sounded like a lot of fun.
"Tualatin's ski team is a great way to meet new people and is such a bonding experience", she said. "Everyone becomes a family."
Over the past four years the giant slalom has become Mathis's favorite event.
"Everything is spread out and you get going really fast in a short amount of time."
She is hoping that her last year of high school skiing will not be cut short by the ongoing pandemic.
"Ski team is a great place to bond with teammates since we do so much together. We drive to the mountain, eat, sleep, train and of course race together," senior Gabe Mitchell said.
He is looking to end his senior year by enjoying every moment and creating memories that will last a lifetime. Mitchell has skied for about 14 years and decided to join the ski team four years ago. Since he joined the team, the Kelsey's Race has been his favorite. For those who don't know, it's a costume contest and race at the beginning of the ski season. The significance of this event is that it's in honor of Kelsey Hewitt, a former ski racer for Grant and Cleveland high schools who died from a tragic skiing accident in 2015.