Winter athletes compete as season heats up
Winter sports at Tualatin High School (TuHS) are in full swing, with a wide variety of sports competing for Tualatin. From basketball and wrestling to swimming, there's no shortage of teams in need of fans to support and cheer for them. So far, the season has been a great success, with many teams performing exceptionally well.
The Tualatin men's basketball team is off to an excellent start this season and they are currently ranked #2 in the state. The team's hard work, dedication and cohesion are showing on the court as they are putting on dominant performances on a regular basis.
When we talked to senior point guard Ryan Schleicher, he had the utmost confidence in his team.
"Our team is extremely talented, and I feel like we were disrespected at the start of the year," Schleicher said. "Our key guy was playing through injury, and we had a brand new team and coach, so it only makes sense we needed time to come together. We will just keep fighting until we win state. That's our plan."
The strong leadership from the new coaching staff and the extremely talented players has led to a string of victories, which has solidified their position in the top of the state rankings. The community is rallying behind the team as they strive to reach another state championship for TuHS.
The Tualatin girls' basketball team is also having a remarkable season. They are currently ranked in the top four teams in the state with a 14-1 record.The team's combination of height and skill gives them an advantage on the court, leading to a good defense and efficient offense.
Senior post Tabi Searle has a positive outlook for the rest of the season.
"We are ready for the last stretch of the season," Searle said. "We feel like we should take care of the teams in our league. If we come together as a team and play hard we can make a deep run at Chiles. This is the closest team I've been on so it's easy playing with people you have a great connection with."
With a strong record and elite players, the team is looking to continue their winning streak and make their mark on the state.
A great team sport to participate in during the winter is swimming. The swim team at TuHS provides students with an opportunity to be healthy and develop their swimming abilities while being a member of a supportive and committed team. The team works out frequently throughout the season, competing against teams from other institutions. A wonderful way to remain in shape, increase stamina and meet new people is to go swimming. The coaching staff and current swimmers say they would be delighted to have new members interested in the team. Students can still help the squad, even if they don't want to join, by going to competitions and showing support.
Wrestling is also an incredible team building and high-grit sport. TuHS is a high-level wrestling program with many talented athletes showcasing their skills on the mat. The team has several standout performers who have dominated their opponents, and they are poised to continue their winning ways in the remaining matches.
With four more wrestling meets scheduled, there is still plenty of opportunity for fans to catch the team in action and see the athletes compete. The coaches and athletes have been working hard in practice to refine their techniques and strategies, and it is paying off in the form of impressive wins.
We asked junior Reid Dobash about his experience with wrestling.
"Wrestling itself is just a great sport to learn and compete in. It teaches you a lot about discipline and sacrifice," Dobash said. "Here at Tualatin, it's even more amplified. It's just a great winning and hard-working culture. I love wrestling here."
So if you're a fan of wrestling or just looking for an exciting sporting event, make sure to check out Tualatin High's upcoming meets!
TuHS sports teams are currently having an outstanding performance with our teams ranking high in state. Athletes agree that the dedication and hard work of their peers, coaches and staff have been the driving force behind this success. Attending games is not only a way to show support for the school, but also an opportunity to witness the high level of talent, athleticism and amazing sportsmanship of the Tualatin athletes. With the winter season in full swing, it's a great time to come and see the basketball and swim teams in action and join the excitement.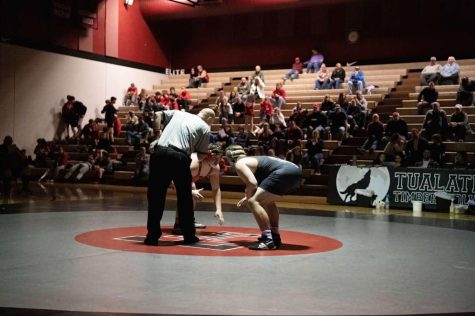 Junior Reid Dobash photographed by Photo by Jackson Biedrizky.