Local Portland business provides coffee, tea, desserts and more
Soro Soro Coffee and Dessert, a Korean Cafe on East Burnside, is the perfect spot to stop by if you find yourself out and about in Portland. They're closed on Mondays, but open from 9-5 p.m. Tuesday through Saturday and 11 a.m.-3 p.m. on Sunday.
The cafe features a full menu of yummy and unique drinks ranging from a Hojicha Latte to a Cherry Blossom Latte, as well as hot chocolates and a range of coffee options. The best part, though, is the charmingly decorated desserts. Their chocolate mousse cake and cheesecakes are decorated to look like cats and bears, and their layered cake slices are very pretty and colorful with rainbow and lavender accents. And the one item we regret not purchasing, the Strawberry and Cream Croffle, is a waffle filled with strawberries and cream topped with powdered sugar. It looked so good.
Below are the items that we chose to try on our trip to Soro Soro.
(Claire) Lavender Latte: This is pretty much the only drink I order, and I would definitely recommend it. A La Marzocco machine is always a good sign, and I was not disappointed with its results this time. The espresso was smooth and flavorful, and the cafe staff made a cute cat with the foam! My only two changes for next time would be to add another shot of espresso, so that the coffee is a little stronger, and to order it extra hot.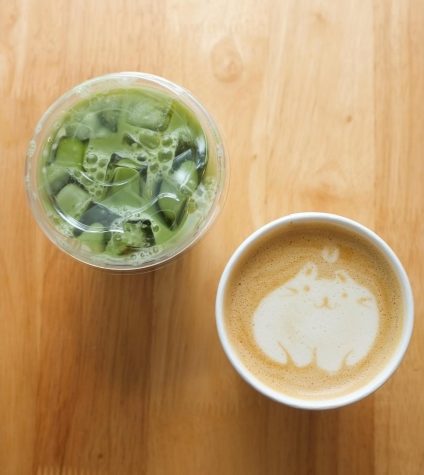 Photograph by Isabella Kneeshaw.
(Izzy) Iced Matcha Latte: I am an avid matcha connoisseur, and I really enjoyed my matcha latte. The flavor of the tea was much smoother than others and not too sweet. I could tell the matcha was high quality, and I appreciate when they allow you to adjust the sweetness to however you prefer instead of having a pre-sweetened mix.
(Izzy & Claire) Earl Grey Tiramisu: This was the perfect single serving of tiramisu, with a twist on the typical coffee flavors. The Earl Grey and coffee combination with the sweet cream and cake were delicious, and we'd definitely recommend it. They also have a matcha and classic version.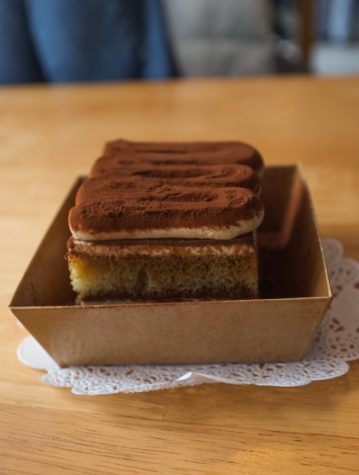 Graphic by Isabella Kneeshaw.
The space offers outdoor and indoor seating, but it can get a little bit busy, so you may find yourself having to wait for a table. Luckily, if you do end up having to wait around, Soro Soro is also filled with fun gift-shop items to browse through. We personally loved the cat stuffed animals and dishes, but the shop also has stickers, key-chains, decorative candles, lights and other fun mementos that would make perfect gifts.
The staff was very kind and the service was great. Soro Soro is definitely worth keeping on your list of Portland cafes and is a great place to take friends and/or family for a day downtown. We'll definitely be back again to try their Strawberries and Cream Croffle.