Incorporate face masks into on-the-go fall fashion
Since quarantine started, all aspects of our lives have been altered—including fashion. Masks are an essential part of every person's wardrobe when they go out right now, so why not build your outfit around them? If you're searching for some quarantine specific looks, at-home or on-the-go, look no further.
[Emma J]: One thing that I realized in quarantine is that if I didn't get dressed up for school every day like I did previously, I was going to go crazy. However, seeing as everyone could only see my shoulders and up, I figured that it wouldn't hurt to cozy up. This cardigan is surprisingly heavy, so it keeps me warm in my otherwise freezing house, and my ultra-soft top is basically the epitome of comfort. If you're looking to pair plaid but don't happen to have one in cardigan form, flannels make just-as-good layering pieces!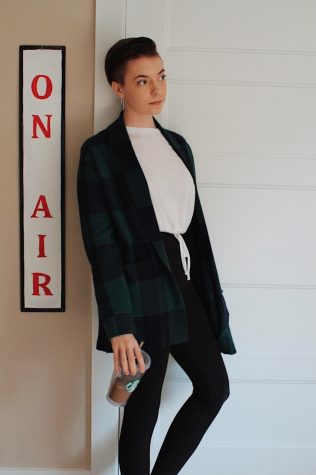 [Teagan]: Like Emma J, I've focused a lot on staying comfy during my online classes at home. But, unlike her, I definitely haven't put as much effort into the cute aspect as much as the comfy aspect. Comfy but cute, my go-to online school outfit is this oversized yellow crew neck sweater and beige sweatpants. Accompanied by a necklace, yellow house slippers and my cute thin-rimmed glasses that I use more for necessity than fashion, the fit I chose is perfect for sitting at a desk all day while my classmates admire how cute I look from the shoulders up.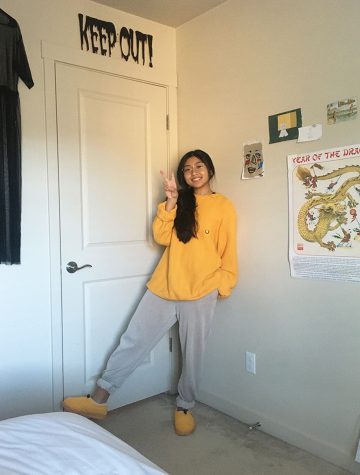 [Emma J]: Teagan and I thought it was important to style fits that anyone could wear, no matter how they identify. And what is one thing that everyone can pull off, regardless of gender or body type? Oversized layers, crop-tops, jeans, boots and a patterned mask! Fall is the season for everyone to be comfortable, both in the weather and with their bodies, so layer up, dress up and be yourself.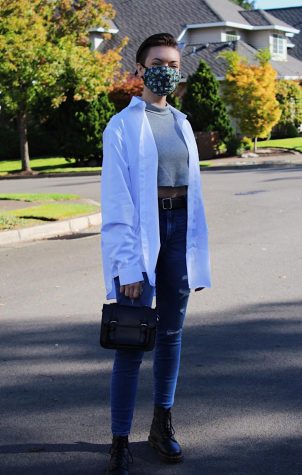 [Teagan]: Exactly! In my humble opinion, clothes don't have a gender, and you shouldn't let the constrictions of gender norms control how you dress! Here, I chose a silk orange button-up matched with a baggy leather jacket and beige jeans. Since the majority of my outfit was made up of shapeless clothes, I decided to tie the button-up to give the outfit more shape. To top it off, I added some black platform boots and a pink over-the-shoulder accent bag. And obviously, your mask is one of the most important parts of your on-the-go look right now, so why not match your mask to your fit? Here, I chose to match my beige mask with my jeans to tie the look together. With this fit, I tried to incorporate some autumn colors and the notorious baggy fall fashion, all while sprucing it up a bit 😉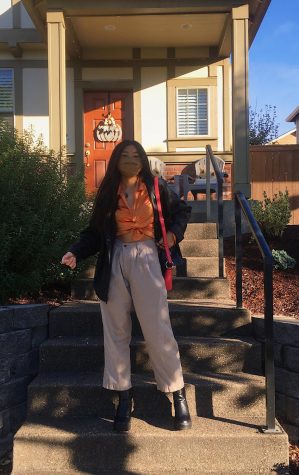 [Emma J]: Getting ready for a cool night out(side) on the town? Be sure to snuggle up! Throw on a mock neck sweater, layer it with a denim jacket and go casual the rest of the way down. Some of the best dressy outfits are constructed around jeans, in my opinion. One surprising benefit of facial masks is the extra warmth on your face. It's like breathing under the blankets on a cold winter night; all the heat is trapped against you!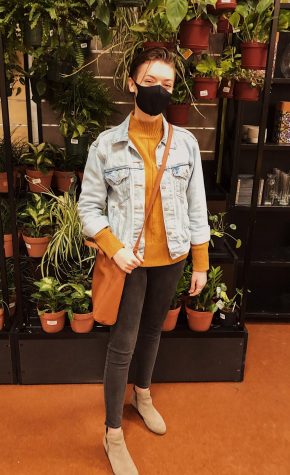 [Teagan]: Layering up is definitely the move right now as autumn weather is kicking off in full swing. However, why should the cold stop you from wearing something as comfortable as a skirt? A maxi skirt, cotton top with ruffles and long coat will do the trick and battle off the brisk autumn breeze.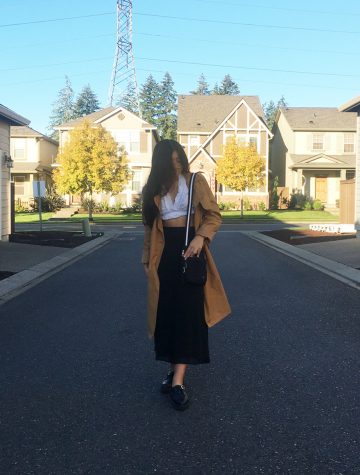 In the end, fashion is all about being comfortable, both with who you are and what you're wearing. Style is an extension of your identity, and you deserve to wear what expresses that. No one can tell you what you should or should not wear—unless it's a mask. Put that on.
About the Writers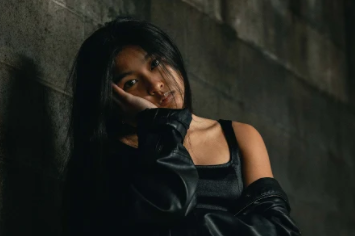 Teagan Gaviola, Editor-in-Chief



Hello!! My name is Teagan, I'm a senior, and my pronouns are she/they. This is my third year on The Wolf staff. In my second year, I was both the...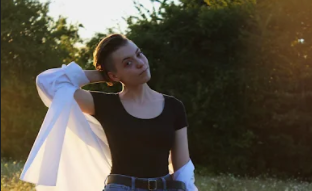 Emma J Nelson, Editor-in-Chief



Hello! My name is Emma J and my pronouns are she/her. I am the co-editor-in-chief of The Wolf and I'm currently in my senior year. I joined newspaper...