Vitriol toward BTS post-Grammys highlights xenophobia in music industry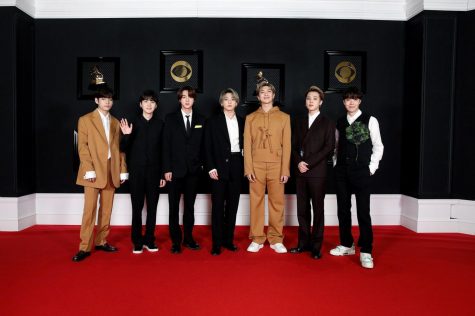 Content Warning: Discusses violent imagery
In the aftermath of the 2021 Grammy Awards, South Korean group BTS was subjected to harsh criticisms and unbridled racist microagressions from the media.
In light of Lady Gaga receiving the Best Pop Duo/Group Grammy—the category of BTS's first Grammy nomination—many media outlets painted this as a "failure" for the South Korean group. Although many other artists – most being English-speaking Western artists – had seemingly "failed" similarly by not receiving an award in their nomination categories, many articles only seemed to highlight what they made out to be BTS's failure.
Among the most brutal depictions of BTS's experience at the Grammys, illustrator Chris Meeks made a heinous illustration a part of Topps' Garbage Pail Kids "Shammys" project. This project consisted of a collection of trading cards which portrayed different artists from the Grammy awards, in which most were depicted in a lighthearted and joking manner. Many internet users noted, however, that BTS's illustration was not portrayed in such a way. Rather, it depicted caricatures of the BTS members being beaten with a Grammy award in a game of Whac-a-Mole. The caricatures of the members showed them bruised, bandaged and in distress. Due to the violent nature of the cartoon, The Wolf felt that not including the illustration on our website would be best.
In the midst of movements calling attention to the increasing number of hate crimes against Asians, this unsolicited vitriol toward seven successful Asian men appeared especially vicious and racist to many internet users and supporters of BTS, also known as ARMY. Meeks' illustration, however, would be distasteful in any circumstance — the plague of racism against Asians just further emphasized the wrongness of his creation.
Although Topps — the company which published this violent and racist illustration — issued an apology, which many have deemed inadequate in that it did not acknowledge the reason it upset many people, this along with other reactions to BTS's experience at the Grammys highlights a large problem ingrained within the Western music industry and the media that accompanies it.
The unbridled hostility surrounding the industry towards seven successful men of color, whose first language is not English, showcases the systemic issue of xenophobia and racism faced by many international artists and artists of color. Many drew attention to these issues when The Weeknd, a black musician, was not nominated for any Grammy awards, despite having one of the most successful albums of 2020.
This, however, was not the first time BTS was subjected to racist and prejudiced sentiments. German radio show host Matthias Matuschik compared the group to the coronavirus and equated BTS to a virus themselves, saying that there needs to be a vaccine in order to eradicate them. This is simply one of several instances of prejudice BTS have faced as Asian men.
From their personal band account on Twitter, @BTS_twt, BTS tweeted the hashtags "StopAsianHate" and "StopAAPIHate" accompanied by their own statements regarding the recent-racially motivated shooting in Georgia that resulted in the death of six Asian women. The group also acknowledged their own experiences with racism as Asians.
"We recall moments when we faced discrimination as Asians. We have endured expletives without reason and were mocked for the way we looked… We cannot put into words the pain of becoming the subject of hatred and violence for such a reason. Our own experiences are inconsequential compared to the events that have occurred over the past few weeks. But these experiences were enough to make us feel powerless and chip away our self-esteem. What is happening right now cannot be dissociated from our identity as Asians," the group stated in a message accompanying their tweet.
Although BTS's experiences seem somewhat inconsequential in comparison to the violent hate crimes that have steadily increased against Asians during the pandemic, the racist and hostile rhetoric pointed towards the group further perpetuates the anti-Asian racism that leads to violent assaults and even death.
"These are the real-life consequences of a racist, tone-deaf stunt like Topps' BTS Garbage Pail Kids sticker… Its creators should have understood why it was a terrible idea long before it became the public's job to rebuke them," Forbes writer Bryan Rolli wrote in his article "Topps' Racist BTS Garbage Pail Kids Sticker Would Have Been A Terrible Idea At Any Time."