Regal Cinemas closes U.S. theaters temporarily due to a lack of blockbuster films
Bonus Q&A with former Tualatin High student.
With many films pushing back their release dates due to the pandemic, plenty of moviegoers aren't coming to theaters. This has caused Regal Cinemas, the massive theater chain, to make an executive decision to close its doors temporarily throughout the entire United States and the United Kingdom.
Regal recently put out a statement on its website saying that this temporary closing was in effect for all locations starting Friday, Oct. 9. They continued to say that the decision will be closely monitored, and they will communicate any further decisions about the future re-opening of theaters.
This has caused over 40,000 jobs to be put on hold. The company claims they weren't making enough money to pay their employees and keep the doors open. Regal has seen a dramatic drop in its customers over the past few months, leading them to this decision.
To learn more about the effects of the temporary closure, The Wolf interviewed Brayleen Blanchard, a recent graduate of Tualatin High School who worked at Regal Cinemas.
Q: How long have you been working at Regal?
A: I have worked at Regal since August 2018, and I got hired shortly after I turned 16.
Q: What was the title of your position?
A: My position at Sherwood Regal was Floor Staff, which consisted of ushering (cleaning theaters), box office, concessions and tearing tickets at the podium. I also got to help out with a lot of birthday parties at our location and promoted our subscription service.
Q: Have you noticed a decrease in customers?
A: We officially closed the Sherwood Regal location on the 16th of March, but prior to that date, we did have a decrease in attendance. We had started to implement safety regulations such as sanitizing counters and door handles every hour, blocking 50 percent of seating in each auditorium, spacing out concession lines and encouraging guests to purchase their tickets ahead of time to prevent long lines.
Q: What was your favorite part about working there?
A: My favorite part about working there was my coworkers. Even when we had to start implementing a lot of regulations, everyone kept good morale and didn't let it affect their job.
Q: How will the closing of the theater have an effect on you?
A: Part of me always thought we would open our doors before I left for college, so the news of our closure was really upsetting. I created a lot of good relationships with the people I worked with, and not being able to see them all in one place again saddens me. On the bright side, we have been able to bond through this experience and I do believe if we open up again that we will in turn be able to function better as a business. This experience has paved the way for a lot of creative solutions to emerge to increase public safety within our theaters, and if we open again soon I think it will be a better movie experience for everyone involved.
About the Writer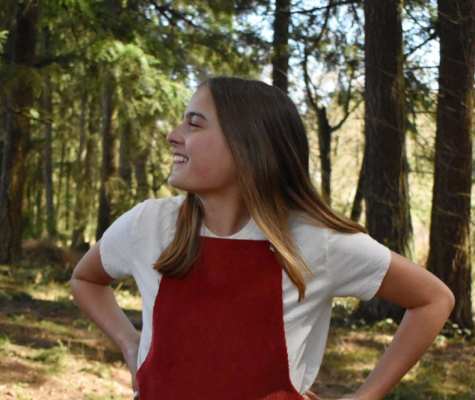 Taryn Coulson, Staff Writer
Hi, I'm Taryn, and I'm a junior at TuHS. This is my first year on staff. I decided to join newspaper because I love writing! In my free time I enjoy...